LOS ANGELES, CA (September 1, 2021) – Oak View Group (OVG), the global venue development, advisory, and investment company for the sports and live entertainment industries, today announced that Chris Granger has joined the company to lead OVG Facilities as its CEO. Based in Detroit, Mich., Granger will report to Tim Leiweke, CEO of Oak View Group.
Granger's appointment comes on the heels of OVG's announcement earlier this week to merge with Spectra, one of the industry's leading food and beverage and hospitality providers, to create a leading full-service live events company. The combined company will provide industry-leading expertise in booking and creating content for the venues it manages, and it will be committed to sustainability across its business operations by harnessing the power of the entertainment and sports industries to inspire positive change robustly and at scale.
With more than 25 years of experience, Granger will oversee OVG Facilities, OVG Media & Conferences, and the OVG Arena Alliance, a collection of the top 32 venues in North America that provides a platform for booking, content, and sponsorship sales opportunities. In addition, Granger will focus on sustainability, public safety, and sanitization solutions across all venues, addressing some of the biggest challenges in the live events industry.
Leiweke commented, "As we grow as a company, there are priorities that we have set to guide that growth. First, character, in all aspects of our organization. Second, a commitment to lead the industry and change the conversation. Third, to not operate in fear. What I admire most about Chris is he is a living example of all three. Anyone and everyone that has worked with him knows he is a class act and leads by example. In addition, he is like us, dreaming for what we could be as an industry and thinking outside the box. And finally, he believes that this is the time for us to be bold, to be entrepreneurial, and to grow this industry. All of us at OVG, our facilities, and our fans, are looking forward to Chris' leadership."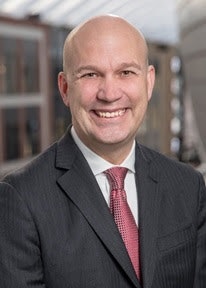 "I am excited and humbled to join Tim Leiweke, Irving Azoff, and the incredibly talented team at Oak View Group. Venues, arenas, and stadiums increasingly play an irreplaceable role in society. They bring diverse people together to cheer, to sing, to vote, to protest, and to celebrate," said Granger. "Further, we are seeing facilities lead the way in areas of public health, public safety, and sustainability. I look forward to contributing to the OVG vision of making a positive contribution to the world through our venues. I can't wait to get started."
Granger continued, "I would also like to thank Chris Ilitch for the amazing opportunity to steward the business operations of two iconic teams, six world-class venues, and work with some of the hardest working people in sports and entertainment. It's been an honor to represent the Winged Wheel and Olde English D, and truly the highlight of my career thus far. I am grateful for what I have learned, for the friendships built, and for the chance to live, work, and play in the Motor City, one of the great entertainment destinations in the world."
Prior to joining OVG, Granger was group president of sports & entertainment with Ilitch Holdings, a position he held since 2017. While there, he was responsible for all aspects of business operations for the Detroit Tigers, the Detroit Red Wings, the company's joint venture interest in 313 Presents, and the operations of Little Caesars Arena, Comerica Park, Detroit's historic Fox Theater, DTE Energy Music Theater, Meadow Brook Amphitheater, and Michigan Lottery Amphitheater at Freedom Hill. In Granger's four years leading the organization, the Ilitch sports and entertainment businesses saw a period of unprecedented growth, a broad expansion of programming, and significant community investment.
Granger previously served as president of the Sacramento Kings and Sacramento Basketball Holdings, LLC. During his tenure, the Kings enjoyed unprecedented revenue growth and were widely recognized as a highly innovative and community-minded franchise. Granger's influence also extended to the development of Sacramento's award-winning, LEED Platinum Golden 1 Center, and its 1.5 million-square-foot downtown mixed-use development project, Downtown Commons. The Golden 1 Center was the first arena in the country to be recognized as LEED Platinum, reflecting its groundbreaking commitment to sustainability. Before joining the Kings, Granger worked in various capacities for the NBA for 14 years. While there, he served as the executive vice president of the NBA's renowned team marketing and business operations function, where he advised NBA, WNBA, and NBA Development League teams on all aspects of business operations.
Granger and his family are active in a wide range of charitable organizations in the Detroit community, including Make-a-Wish Michigan, Salvation Army, the Henry Ford Museum, and City Year Detroit, where Granger proudly serves on the Board.
He received his bachelor's degree from Cornell University and his Master of Business Administration from Yale. He was named Sacramento Business Person of the Year in 2017 and was a 2010 Sports Business Journal Forty Under 40 award winner.
# # #
About Oak View Group
Oak View Group (OVG) is a global sports and entertainment company founded by Tim Leiweke and Irving Azoff in 2015. OVG is focused on being a positive disruption to business as usual in the sports and live entertainment industry and currently has eight divisions across four global offices (Los Angeles, New York, London, and Philadelphia). OVG is leading the redevelopment and operations of Climate Pledge Arena at Seattle Center as well as leading arena development projects for UBS Arena in Belmont Park, NY; Moody Center in Austin, TX; New Arena in Coachella Valley, CA; and Co-op Live in Manchester, UK. OVG Global Partnerships, a division of OVG, is the sales and marketing arm responsible for selling across all OVG arena development projects. OVG Facilities, a division of OVG, is the facility management, booking, security, and sanitization services arm that performs services for both OVG's arena development projects and clients on a 3rd party basis. OVG Media & Conferences, a division of OVG, publishes Pollstar and VenuesNow, in addition to hosting live entertainment-centric conferences around the world. OVG's Arena Alliance, a division of OVG, is a collection of the top 32 venues in North America that provides a platform for booking, content, and sponsorship sales opportunities. Learn more at OakViewGroup.com, and follow OVG on Facebook, Instagram, Twitter and LinkedIn.