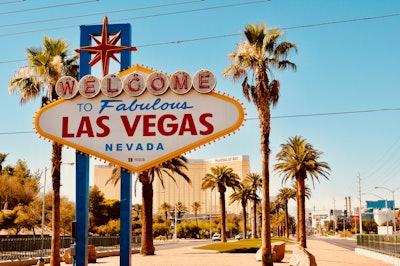 Photo courtesy of Grant Cai
Plans were announced Wednesday for a 25-acre, $3 billion entertainment district for Las Vegas that will include a casino, hotel, retail spaces and a sports arena.
Oak View Group has acquired the 25 acres, which is located on 66.5 acres of land near the intersection of two major freeways, I-15 and I-215. Former Las Vegas Raiders president Marc Badain SpearheadingProject with Oak View Group.
According to press release from OVG, the project will feature an 850,000 square foot arena, a casino, a hotel, and an additional entertainment venue amphitheater. Featuring as many as 20,000+ seats and modern amenities that will include suites, premium hospitality clubs, the arena will host live events including concerts, sporting events, family entertainment, as well as conventions, large meetings, international events, as well as award shows, exhibitions, and more.
With a focus on "technology, sustainability, and green initiatives," OVG said the construction of the arena is expected to create thousands of permanent and temporary jobs for the surrounding community.
"South of the Las Vegas strip represents one of the few areas of potential future growth of the gaming and entertainment corridor," said Tim Leiweke, CEO of Oak View Group. "This unprecedented project is an industry game-changer, and we will usher in the evolution of Las Vegas as the new entertainment AND sports capital of the world. As the largest arena developer in the world, we look forward to driving good paying job creation to Clark County as well as creating the most innovative and environmentally sustainable live entertainment point of destination in the world."
Designed by architecture firms Gensler and Populous, the privately financed sports and entertainment represent OVG's biggest project to date. In addition to Gensler and Populous, the project development will be led by Steve Collins, OVG's president of global venue development and special projects.
Situated adjacent to the planned Brightline high-speed rail station, it is estimated that more than 13 million vehicles coming from California pass the site every year. The site will boast direct and easy access to and from I-15 and Las Vegas Boulevard and streets such as Blue Diamond, Warm Springs, and Dean Martin, resulting in 8 to15-minute drive times to and from all major Las Vegas Strip resorts and the airport and helping alleviate freeway traffic in both directions.