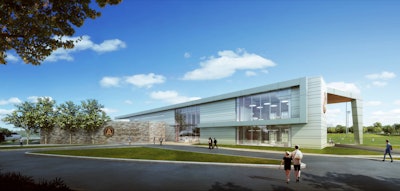 Source: tvsdesign
ATLANTA (April 19, 2016) – Atlanta United, Major League Soccer's 22nd franchise, has released details and new renderings of its new training facility, designed by Atlanta-based tvsdesign. Located along the Franklin Road Corridor in Marietta, Ga., the 33-acre site includes six playing fields and a 30,000-square-foot facility that will house both the professional and academy teams for the club, which will begin competitive Major League Soccer play in 2017.
"It's exciting to see the training ground project begin to take shape," said Darren Eales, president of Atlanta United. "We're pleased to be working with tvsdesign to build a world-class soccer training facility that will suit our team's needs perfectly, and serve as a focal point for the local community."
The project represents more than $60 million in new investment by Atlanta United to the area and approximately 80 high-paying jobs by 2017. The training facility will be used by professional and soccer academy players along with the club's executive and soccer operations staff.
"While Atlanta United's training grounds are a place primarily focused on high performance, teamwork and wellness, it's also an important recruiting tool for the team," said Principal in Charge at tvsdesign, Mark Carter. "We understand that elite talent is attracted to elite experiences and the design of the building is intentionally responsive to the organization's progressive cultural and business initiatives."
Atlanta United's training facility will have a distinct emphasis on hospitality, something that tvsdesign's Design Principal Rob O'Keefe says sets it apart in the sports facilities world.
"We wanted to create a versatile facility for Atlanta United that is designed to not only encourage the development of the professional team and academy but that also creates opportunities to engage the fans as well as the surrounding community" said O'Keefe. 
About tvsdesign
tvsdesign is a firm of architects and designers that creates landmark buildings and signature spaces around the world. Award-winning projects range from centers for learning to dynamic places for work, convention centers to aquariums, mixed-use destinations to retail showcases, and corporate campuses to hotels. From seeing the real potential in a project to finding smart solutions to complex design challenges, tvsdesign's process enables its team to imagine more for clients. For more information, please visit tvsdesign.com or @tvsdesign
About Atlanta United
Atlanta United brings Major League Soccer to the Southeast as the league's 22nd franchise. The club's avid fan base has already set records in fan participation for the 2017 inaugural season.
The first sports team to play in the state-of-the-art Mercedes-Benz Stadium currently under construction downtown, Atlanta United is owned by one of the city's most influential businessmen and philanthropists, Arthur M. Blank, and is led by club President Darren Eales. For more information about Atlanta United, including how to become a Founding Member visit: www.atlutd.com  and follow @ATLUTD