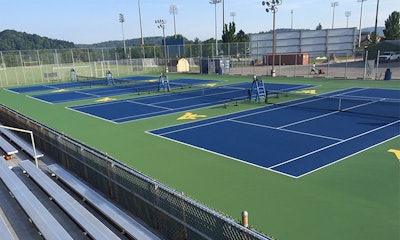 Source: Hellas

AUSTIN, TX (November 22, 2016) --West Virginia University upgraded their Division I tennis courts with the help of Hellas Construction, in order to provide students competition-sized courts and have the ability to host tournaments at the WVU Mountaineer campus. The university now has courts comparable to those at the U.S. Open.
"The courts were not only updated, but brought up to United States Tennis Association (USTA) standards for competition," said Brian Jorgensen, Project Manager at Hellas Construction. "We have tennis surfacing installers that specialize in Division I installations. Not a lot of companies have the ability to meet the strict tolerances set by the USTA, American Sports Builders Association (ASBA), and the International Tennis Federation (ITF)," said Jorgensen.
Jeff Palermo, WVU Project Engineer said, "The gentlemen that you had here working on our tennis courts did a terrific job!" He said, "I think it looks really nice. You have a good crew of guys."
Hellas partnered with general contractor March-Westin Company, Inc. on this great project. Erik Edwards, March-Westin Project Manager said, "I would absolutely work with Hellas again. Everyone was very happy with the end result."
Jorgensen said, "It was a detailed and meticulous project that Hellas is very proud of." He said, "They can now host tournaments on world competition courts." Hellas has resurfaced Division I tennis courts at universities all over the country.
About Hellas Construction, Inc.
Headquartered in Austin, TX, is one of the largest sports construction contractors in the United States. While specializing in the general construction of sports facilities and synthetic surfaces, Hellas also champions innovative artificial turf manufacturing, base construction, field, track and tennis planning, installation and maintenance. To learn more about Hellas Construction, visit hellasconstruction.com.
About West Virginia University
Established in 1867, WVU is the state's major research, doctoral degree-granting, land-grant, public, comprehensive institution. It provides high quality programs of instruction, offering 166 types of degrees at the undergraduate, graduate, and first-professional levels, including the state's only law school. The wide range of health science programs taught at the Robert C. Byrd Health Sciences Center through the schools of medicine, dentistry, nursing and pharmacy includes allied health programs and graduate programs in basic health sciences. The two campuses, totaling 673 acres, are located in Morgantown and Evansdale, 75 miles south of Pittsburgh. Visit www.wvu.edu.
About March-Westin Company, Inc.
March-Westin Company, Inc. provides full-service engineering and general contracting services for commercial entities. The firm is headquartered in Morgantown, West Virginia with an additional office in Baltimore, Maryland. March-Westin's mobilization capabilities allow the firm to serve a broader geographical area, including Pennsylvania, Ohio and Virginia. March-Westin Company, Inc. employs over 260 local workers and has successfully completed over 2000 projects and individual contracts in excess of $100 million. Visit www.marchwestin.com for more information.