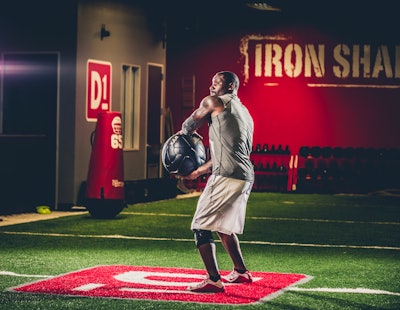 Source: DonJoy Performance
DonJoy Performance will be the Official Bracing and Supports partner of D1 Sports Training Centers to help athletes play longer, heal faster and perform stronger.
SAN DIEGO, Calif. (March 1, 2017) – DonJoy Performance, the consumer division of leading global provider of medical device solutions for musculoskeletal health, vascular health and pain management DJO Global, Inc., announced today the partnership with D1 Sports Training, the premiere athletic-based training brand in the country. DonJoy Performance will become the Official Bracing and Supports Partner of D1 Sports Training.
The partnership brings together two sports performance brands rooted in sports training. DonJoy Performance, a recognized leader in bracing and supports will provide D1 Sports Training athletes, coaches and medical teams with products to assist with training, injury prevention and rehabilitation.
"DonJoy Performance is committed to helping athletes play better, heal faster and return to play faster through our functional and protective solutions. The partnership with D1 Sports Training provides an active environment for athletes of all ages to experience the protection and prevention DonJoy Performance products offer to enhance performance," said Charlie Setzler, GM, DonJoy Performance.
D1 Sports Training has established itself as a leader in world-class performance training for all ages with over 35 training centers and an additional 40 sports medicine clinics around the U.S., providing both athletic-based group fitness and sports performance training. The training centers offer custom sports training programs, boot camps and athletic development, while the therapy centers provide the latest in sports medicine and therapy.
"D1 is excited to partner with a like-minded premium sports brand such as DonJoy Performance", said Will Bartholomew, CEO and Founder of D1 Sports Companies. "Through this relationship, D1 can ensure that our athletes have access to the highest level of injury prevention and rehab products as well as education that will give them the confidence to perform at their highest levels."
DonJoy Performance is a leading creator of innovative sports bracing technology, and offers a variety of different products for prevention, protection, pain and performance. You can learn more about DonJoy Performance products at DonJoyPerformance.com.
Individual results may vary.
Neither DJO Global, Inc. nor any of its subsidiaries dispense medical advice. The contents of this press release do not constitute medical, legal, or any other type of professional advice. Information related to various health, medical, and fitness conditions and their treatment is not meant to be a substitute for the advice provided by a physician or other medical professional. You should not use the information contained herein for diagnosing a health or fitness problem or disease. Rather, please consult your healthcare professional for information on the courses of treatment, if any, which may be appropriate for you.
Social Media:
Facebook: @DonJoyPerformance @D1SportsTraining
Instagram: @donjoyperformance @D1SportsTraining
Twitter: @DonJoyPerformX @D1Sportstraining
Hashtags: #TrustDonjoy #DonJoyPerformance #TrainD1fferent
ABOUT DJO GLOBAL'S CONSUMER DIVISION
DJO Consumer is the retail and direct-to-consumer arm of DJO Global Inc., a recognized leader in bracing and supports, and one of the largest orthopedic rehabilitation compaies in the world. Under the DonJoy Performance brand, the consumer division delivers functional sports medicine and protective solutions straight to the consumer in order to help athletes, sport enthusiasts and everyday active lifestyle consumers achieve peak performance, and stay healthy and active. DonJoy Performance products leverage the considerable medical invention and innovation resources of DJO Global, while delivering thoughtfully designed styles. The DonJoy Performance mission proudly reflects the legacy of its parent company and is designed to help athletes stay in the game. For more information, visit DonJoyPerformance.com.
ABOUT DJO GLOBAL
DJO Global is a leading global provider of medical technologies designed to get and keep people moving. The Company's products address the continuum of patient care from injury prevention to rehabilitation after surgery, injury or from degenerative disease, enabling people to regain or maintain their natural motion. Its products are used by orthopedic specialists, spine surgeons, primary care physicians, pain management specialists, physical therapists, podiatrists, chiropractors, athletic trainers and other healthcare professionals. In addition, many of the Company's medical devices and related accessories are used by athletes and patients for injury prevention and at-home physical therapy treatment. The Company's product lines include rigid and soft orthopedic bracing, hot and cold therapy, bone growth stimulators, vascular therapy systems and compression garments, therapeutic shoes and inserts, electrical stimulators used for pain management and physical therapy products. The Company's surgical division offers a comprehensive suite of reconstructive joint products for the hip, knee and shoulder. DJO Global's products are marketed under a portfolio of brands including Aircast®, Chattanooga, CMFTM, Compex®, DonJoy®, ProCare®, DJO® Surgical, Dr. Comfort®, Bell-Horn® and ExosTM. For additional information on the Company, please visit www.DJOglobal.com.