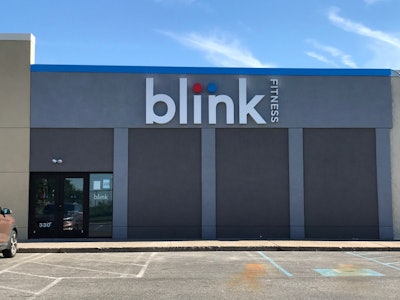 Source: Blink Fitness
Survey reveals 84% of people in Philadelphia value feeling good over looking good
NEW YORK, June 19, 2017 /PRNewswire/ — Blink Fitness, the premium-quality, value-based gym is thrilled to share that the company will be opening its first two locations in Philadelphia this week. The first gym is located in South Philly at Whitman Plaza (330 W. Oregon Avenue) and will be opening on Monday, June 19; the second is in North Philly at Academy Road (8491 Frankford Avenue) and will be opening on Thursday, June 22.
Blink Fitness is bringing Philadelphia residents its groundbreaking model and unique brand philosophy — Mood Above Muscle™, which celebrates the emotional benefits of exercise in addition to the physical results. Blink's approach to fitness appears to be in line with what Philadelphians are looking for in a gym — a survey commissioned by Blink Fitness and conducted by Radius, revealed that 84% of people in Philadelphia value feeling good over looking good.
"In the last few years, Blink has carved out a much needed space in the industry—one where all gym members can feel comfortable working out with a more approachable outlook on fitness," said Todd Magazine, President of Blink Fitness. "We're excited to finally come to Philadelphia and are confident residents will be receptive to the quality and value they'll find within our gyms. We look forward to continuing to build Blink's footprint here."
These first two openings in Philadelphia mark Blink's first new market ventures outside of the New York metro area since the company's launch in 2011. Blink Fitness plans for continued growth in the area with two additional gyms slated to open early 2018, with more Philadelphia locations to come.
The city of Philadelphia shares similar qualities to Blink's home in New York City — dense neighborhoods and a variety of transit hubs with the option of commuting to and from the suburbs.
With its differentiated brand philosophy, Blink is on a mission to change the rhetoric around fitness. Blink's 2017 campaign, "Every Body Happy," featured real Blink members of all shapes and fitness levels to demonstrate how "fit" looks different on every body. The same survey revealed additional insights reinforcing the need for this fresh perspective on fitness:
81% of Philadelphians say their relationship with their bodies could be improved.
70% of Philadelphians say it's discouraging to work towards unrealistic body images portrayed in the media.
57% of people in

Philadelphia

feel more confident about themselves when they leave the gym than when they first walk in.
The brand new gyms will provide Blink's signature Feel Good Experience®. Specifically, Blink is committed to providing a modern and colorful design, elevated customer service, relentless focus on cleanliness, energizing music and confidence-boosting training programs — all while offering memberships at a low cost (starting at just $15 per month).
Blink's goal is to reach 300 gyms in the next five years through franchising and continued corporate-owned growth.
As part of Blink's commitment to philanthropy, the grand opening celebrations will include the donation of 50 one-year memberships, worth more than $10,000, to local non-profit organizations that serve the communities where the gyms are located.
Diversified Community Services: Blink South Philly is teaming up with the Dixon House, a division of Diversified Community Services, supporting adults and families as they work to achieve self-sufficiency through financial literacy, safety net services and workforce training.
CORA Services: Blink Academy Road is partnering with The Mission of CORA Services whose goal is to assist children, youth and families experiencing emotional, academic and social challenges that impede their development and productivity. CORA Services provides an array of comprehensive professional services focused on prevention, intervention, remediation, and referral assistance.
Blink South Philly at Whitman Plaza — Opening June 19 @ 12pm
Address: 330 W. Oregon Avenue
Square Footage: 14,000 sq. ft.
Phone Number: 215.383.2540
Hours: Monday-Thursday: 5AM – 11PM
Friday: 5AM – 10PM
Saturday-Sunday: 7AM – 7PM
Blink Academy Road at Shelly Plaza — Opening June 22 @ 12pm
Address: 8194 Frankford Avenue
Square Footage: 13,500 sq. ft.
Phone Number: 215.383.2536
Hours: Monday-Thursday: 5AM – 11PM
Friday: 5AM – 10PM
Saturday-Sunday: 7AM – 7PM
About Blink Fitness
Founded in 2011, Blink Fitness is a premium quality, value-based fitness brand with more than 70 locations open or in development throughout New York, New Jersey, Pennsylvania and California. Blink Fitness puts Mood Above Muscle™ which celebrates the positive feeling you get from exercise, not just the physical benefits. Each gym employs the company's signature Feel Good Experience® that highlights enthusiastic staff members, a clean environment, an open, spacious, and colorful design, energizing music and fitness training that is motivating and affordable.
For more information about Blink, visit blinkfitness.com. Franchising details are available on blinkfranchising.com. Blink Fitness has franchise opportunities available nationwide with a focus on the following markets: Atlanta, Baltimore, Boston, Dallas, Detroit, Houston, Miami, Tampa and several areas of California, Connecticut, New Jersey and Pennsylvania.
Facebook: BlinkFitness
Twitter: @BlinkFitness
Instagram: @BlinkFitness
About Radius GMR
Radius Global Market Research (www.radius-global.com ) is one of the largest independent market-research companies. For more than 50 years, the business has partnered with global marketers to develop insight-based strategies that drive brand performance. A superior level of senior team involvement is the hallmark of Radius GMR's approach. Radius GMR is based in New York. Global operations include London-based Radius Europe, Radius MEA in Dubai, and Radius Asia in Beijing.
This survey was conducted online within the United States by Radius GMR on behalf of Blank Fitness from May 10 – 17th, 2017 among 4,704 adults 18+ with 409 completes from LA DMA and 423 from Philadelphia DMA. The sample is representative of US census. The survey was conducted utilizing an online panel of respondents. A complete survey method is available upon request.