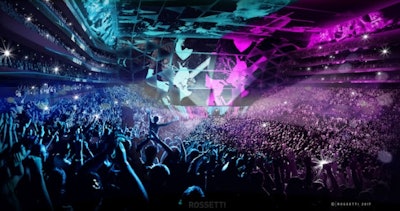 New concept brings fans closer to the action, increases revenue projections and reduces overall footprint
DETROIT, October 10, 2017 – The Romans had it right—until now. From one of the world's most innovative sports and entertainment architecture firms, which has worked on projects like Arthur Ashe Stadium and Daytona International Speedway, comes a revolutionary concept that turns thousands of years of arena design convention inside-out: The Inverted Bowl by ROSSETTI.
"Traditionally, upper bowl seats provide a subpar experience because they are so far removed from the action," said Matt Rossetti, president of ROSSETTI and creator of The Inverted Bowl. "With The Inverted Bowl by ROSSETTI, we transform live entertainment by providing unsurpassed views and experiences to every fan in attendance in every seat of the arena."
Instead of sloping away, The Inverted Bowl by ROSSETTI leans in with thrilling balcony seating that catapults viewers closer to the action for unparalleled, broadcast quality views that are as much as 50 percent closer, turning the worst seats in the house into the best viewing areas. The design also eliminates single-use circulation concourses that are isolated from the bowl by creating animated and vibrant balconied seating and social spaces. The four balconies will feature diverse entertainment, such as full wall digital media screens and creative food and beverage options that promote social interactions and engagement. With a focus on high-tech engagement throughout the arena, the opportunities for interactive fan touchpoints are unlimited. The result is a live entertainment experience unlike any other: A concept that immerses fans in the action and quite literally transforms venue design.
"The upper bowl of any entertainment venue has been associated with negative ROI because each row away from the event surface results in a less engaged viewing experience while progressively costing more to build. The few premium amenities in the upper concourse generate less revenue. It doesn't add up for spectators or for owners," said Rossetti. "This design gives sports and entertainment venues a long-overdue transformation and creates something that not only brings fans closer to the action and offers a more continuous, immersive experience, but also reduces the overall footprint of the arena, makes it less costly to build and increases revenue projections. The Inverted Bowl will change how arenas are designed for decades to come."
ROSSETTI, which has a strong history of architectural innovation, conducted more than seven years of design and feasibility research on The Inverted Bowl—a design that has never been done before—including vetting by structural engineering firm, Entuitive, and several construction firms. The firms have formally studied the concept for initial costing, life cycle costs and constructability.
The Inverted Bowl may be less reliant on public funding thanks to these additional design highlights:
Reduced steel tonnage of up to 22 percent less, lowering construction costs.

Overall revenue projection increases 20–30 percent higher than traditional arenas.

A footprint that is 18 percent smaller, so it can be more easily designed into urban areas.

A shorter overall construction period due to ease of constructability.
Unlike traditional arena concepts, The Inverted Bowl is specifically designed to integrate into urban environments. It can fit within city block units because of the smaller footprint and the porous perimeters will allow for programmed spaces and integration into the city context. The arena can hold between 16,500 and 19,000 seats, which is also in line with the shifting trend toward smaller arenas that can better fit into compact urban environments.
"With The Inverted Bowl by ROSSETTI, we specifically wanted to create more flexibility in a venue's 'real estate' and provide owners with an adaptable solution for different types of events—from sports like hockey and basketball to e-sports and concerts—while creating new experiences for spectators," said Rossetti. "After developing the idea and applying our Return on Design™ concepts on arena spaces through the real estate lens at first, and then through the experiential lens, we quickly realized that fans are increasingly looking for not only the freedom to move with their friends and family, but also have the ability to curate their venue experience. The Inverted Bowl by ROSSETTI meets both the needs of owners and fans alike."
To learn more about The Inverted Bowl and see firsthand how it will transform the live entertainment experience, visit www.theinvertedbowl.com.
About ROSSETTI
The ROSSETTI discover, dare, deliver approach transforms design ideas from unthinkable to reality. Family-owned for 50 years, our history of creating innovative, game-changing sports facility designs began in 1986 with the Detroit Pistons' NBA arena, where the first integration of suites within the seating bowl took hold. This design revolutionized the fan experience and economics of arena design. That first innovation fueled a spirit of adventurous thinking and a culture of investigation, critical analysis and strategic design. Significant recent sports projects include the first motorsports stadium at Daytona International Speedway, the Green Bay Packers 'Titletown' sports-anchored development adjacent to Lambeau Field, the USTA's National Tennis Center master plan, Grandstand Stadium and retractable roof over Arthur Ashe Stadium, the UCLA Health Training Center and home to the LA Lakers, and major renovations at TD Garden and Michigan State University's Breslin Center. To learn more, visit www.rossetti.com.
The Inverted Bowl by ROSSETTISM is a registered service mark.