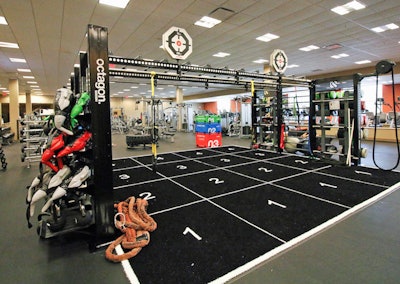 Source: Escape Fitness
Cincinnati, OH, December 5, 2017—Market leader NRG Lab Fitness and Performance Center in Mansfield, Massachusetts recently unveiled its newly re-energized, high-octane, functional training area fully outfitted with equipment from Escape Fitness.
Honoring its brand, appealing to members of varying ability levels and making the most of available space were key elements in the redevelopment of NRG's existing training area. Also essential was reinforcement NRG Lab's service-driven creed to deliver experience, convenience and, ultimately, results to its members.
Highly anticipated by its membership, the refresh includes new TURF flooring and functional equipment. The renovated area inside the training space anchors around the Escape Fitness Octagon Hub Training System, which allows NRG members to perform short, fast, effective, whole-body 360-degree workouts for accelerated results.
Remaining true to its different perspective on what makes up a genuine health club experience, NRG Lab worked with Escape Fitness and selected the Hub Training System (HTS), Half Squad, a number of unique storage solutions, cutting edge rubber/turf hybrid flooring and a wide range of equipment.  
Escape also supplied functional tools that store neatly around the hub. These enable cross training, strength and functional group workouts that can be progressed and regressed depending on ability levels. In total, the redevelopment creates dynamic, accessible functional fitness experiences that work across all levels of ability and make the most of the available space.
In addition, to bring its new training equipment to life, NRG launched Escape's MOVE IT functional high intensity interval training group program. Through MOVE IT, NRG members of all ability levels train together through a series of zone escalations, increasing intensity as they go. Participants use Adjustment Hurdles, CMTs, GRIPRs, Ridge Rollers, Sandbags, Speed Ladders, Corebags, Fitness Bulgarian Bags, Multi Grip Med Balls, Rubber Kettlebells and Slamballs. The harder they train, the bigger the calorie burn.
"At NRG Lab, there's clearly community among our members. In fact, they actually help each other reach their goals. Our new Escape Fitness functional training area and MOVE IT programming enhances that community. We're already getting feedback from members that they couldn't imagine how we could make NRG Lab any better, but we have. That's our goal – bringing the best, most convenient, service-driven experience to our members so they can achieve their goals to become healthier, happier and more confident." said Luther White, owner, NRG Lab.

"NRG Lab is exactly the type of forward-thinking club we love to work with. They know their brand; they know their members; they know their space, and they know their goal. And, we worked in tandem to make decisions to honor all four. The result is amazing," said Matthew Januszek, co-founder, Escape Fitness."
About Escape Fitness: Escape Fitness has been providing industry-leading innovative and colorful functional training equipment and flooring to gyms across the world since 1998. The team has been invited to help provide innovative, exciting and successful fitness solutions to over 1000 clubs in 80 countries. For more information visit www.escapefitness.com/us
About NRG Lab: NRG Lab Fitness and Performance Center has a different perspective on what makes up a genuine health club experience. NRG offers quality programming, expert coaching, personal training and nutrition counseling. The club incorporates everything one would expect from a traditional gym, while eliminating obstacles to achieving goals, and includes its own unique concepts like group fitness classes designed for specific needs, constant support personal trainers, access to nutrition counseling, relaxing deep tissue massage, esthetics, laser hair removal, childcare services and retail shopping to include Lululemon, Aveda and more. For information visit http://nrglab.com