Source: Ecore
Lancaster, PA (February 15, 2018) – Ecore, a company that transforms reclaimed materials into performance surfaces that make people's lives better, has refreshed the colors and team-themed patterns in its popular Everlast Fitness Flooring family of products. Less popular colors were replaced with new colors in order to address industry needs.
The new Everlast Basic Rolls and Tiles colors include Wildcats 3, Vikings, Lions, Blue Jays, Cardinals, Tigers, Dark Grey, Raiders and Gators 3. Raiders, Gators 3 and Wildcats 3 also were added to the UltraTile® line.
"Designers and architects will appreciate the new palette and color options now available for specification in fitness and student recreation applications," said Troy Kelley, Ecore director of sales, athletics.
The Everlast Collection is designed to offer an attractive and durable fitness floor solution with excellent slip resistant properties.
Everlast Basic Rolls and Tiles are made of vulcanized composition rubber and are ideal for use under cardio machines and in light weight lifting areas.
UltraTile is unique because it's designed with a patented "ultra" high-density wear layer on a molded base. The 24-by-24-by-1-inch modular tile offers enhanced shock absorption against impact in moderate to extreme weight drop applications.
To view the new Everlast product offerings, visit: http://www.ecoreathletic.com/Products/Everlast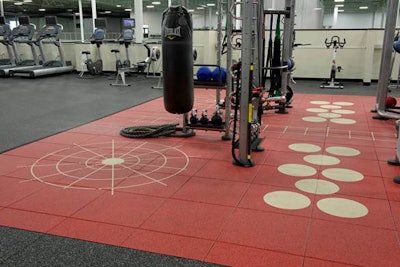 About Ecore:
Since 1871, Ecore has been transforming reclaimed materials into performance surfaces that make people's lives better. What started with simple cork closures has evolved into a diverse portfolio of products solving complex problems in applications ranging from playgrounds, weight rooms and turf fields to hospitals, hotels and retail environments. Ecore is driven every day by a simple question, "Can a floor do more?" YES. At Ecore, we create products based on the simple notion that floors should elevate beyond current expectations. Ecore's energy is focused on the interaction between people and the surface. As a result, we engineer performance well beyond industry standards related to acoustics, ergonomics and safety. Harvesting the unique power from a myriad of waste streams, Ecore creates products that align substantial force reduction with a balanced amount of energy return to create dynamic surfaces that are catered to the individual and the application.
Ecore serves the athletic, fitness, healthcare, hospitality, corporate, multi-family, education and public space markets. To learn more, visit www.ecoreintl.com.