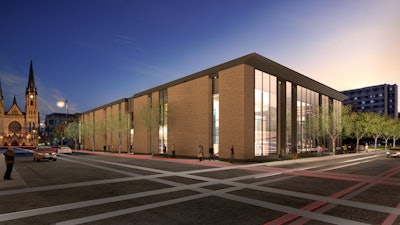 SOURCE: Perkins+Will
Designed by Perkins+Will, the new facility supports the firm's strategic focus on health and well-being
MILWAUKEE—March 6, 2018—Marquette University broke ground today on the 46,000-square-foot Athletic and Human Performance Research Center (AHPRC), an innovative multi-purpose facility designed by global architecture firm Perkins+Will that will combine sports programming and advanced research. The facility is part of a long-term master plan and will be built in phases. The first phase is expected to complete in spring 2019, and will include space for faculty researchers, locker rooms and support space for lacrosse and golf teams, and strength and conditioning space for the athletic department.
"Our team has approached Phase 1 with a focus on refined design, high caliber building materials, appropriate site use, and preparing the AHPRC for future expansion," said Lindsey Peckinpaugh, Perkins+Will principal and leader of the Chicago studio's sports, recreation, and entertainment practice. "We view this as a project that will allow Marquette to serve unmet needs of its athletic program and advance the University's commitment to research on athletic and human performance."
The exterior of the AHPRC, designed by both Perkins+Will and HGA, features a series of panels comprised of brick and metal, and interspersed with vertical windows, all sitting on a granite base. This material palette complements adjacent university buildings, and emphasizes Marquette's commitment to quality building materials. Perkins+Will will lead the Athletic programming and interior design. An especially notable feature of the facility is the two-story glass wall on the north end: this façade provides high-visibility to the strength and conditioning space, and showcases the building's interdisciplinary research initiative.
"The cutting-edge research that will take place inside this new facility will target optimizing athletic performance, as well as exploring the relationships between exercise, fitness, and the overall health and well-being of people across the lifespan," says Marquette University President Michael R. Lovell. "Research collaborators from Marquette, Aurora Health Care, and other partners will address a wide scope of human performance issues."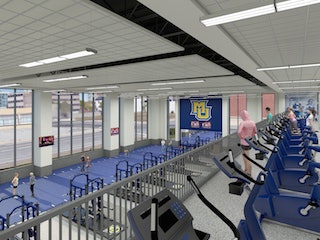 The Marquette facility is the latest in a growing portfolio of Perkins+Will projects and strategic initiatives that support the firm's focus on designing for holistic human health and well-being. Moreover, the project illustrates the many design synergies and similarities that exist between spaces that historically have been perceived as distinct: in this case, the design of a sports performance facility and the design of a place of scientific discovery are complementary and mutually beneficial. The firm's recent merger with Sink Combs Dethlefs, a national leader in sports, recreation, and entertainment architecture, is another example of the firm's commitment to design that supports healthy, physically active lifestyles and sustainable communities.
Project partners collaborating with Perkins+Will are HGA as associate architect and structural engineer of record; Ellenzweig as associate architect; GRAEF as civil engineers; Oslund and Associates as landscape architecture; and Ring & DuChateau as mechanical, electrical, plumbing engineers.
About Perkins+Will
Perkins+Will is an interdisciplinary, research-based architecture and design firm established in 1935. Founded on the belief that design has the power to transform lives and enhance communities, we collaborate with clients all over the world to create healthy, sustainable places in which to live, learn, work, play, heal, move, and explore. More than 2,200 professionals across over 20 Perkins+Will design studios include some of the brightest minds in architecture, interior design, branded environments, urban design, and landscape architecture. Clients consistently turn to us for our leadership and expertise in areas like sustainability, resilience, health and wellness, and mobility. Additionally, our Research Labs catalyze innovative design technologies and solutions that result in better, smarter, more competitive built environments. In 2018, were named one of the World's Most Innovative Companies in Architecture by Fast Company, and we are consistently ranked among the world's top design firms. Our family of partner companies includes retail strategy and design consultancy Portland; sustainable transportation planning consultancy Nelson\Nygaard; healthcare technology planning firm Genesis; and luxury hospitality design firm Pierre-Yves Rochon (PYR). For more information, visit www.perkinswill.com.