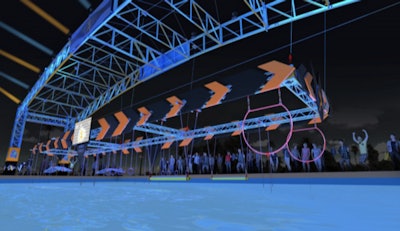 Baytown, Texas October 4th, 2019 - It is true, everything is BIGGER in Texas, and the city of Baytown and NinjaCrossTM Systems are excited to welcome the 1st patented NinjaCrossTM System to be installed in North America - A completely new arena in aquatics!
About NinjaCrossTM Systems
The NinjaCrossTM System is an unconventional challenge course and fitness system designed for indoor & outdoor aquatic facilities. With a push of a button, the NinjaCrossTM transforms an underutilized indoor or outdoor lap pool into a 2-lane challenge course made up of 6-8 obstacles per lane. The system delivers a brand-building attraction that differentiates facilities from others and builds extremely marketable program opportunities such as boot camp fitness classes, tournaments, leagues, summer camps, birthday parties and so much more! The NinjaCrossTM requires ZERO set-up, ZERO breakdown time and has ZERO interference with existing programs - you get 2 pools in 1. Your guests can be swimming laps one minute and with a simple push of a button, 60 seconds later, your pool can be transformed into a challenge course for competitions, events, and leagues. The opportunities are truly endless as the only requirements are four lap lanes and a minimum water depth of 4-feet. "It's physical, challenging, fun to do, fun to watch, and has a learning curve that makes you want to do it again." - Steve Crocker, Director of Sport Swimming - Water Technology Inc.
"The unique NinjaCrossTM design solution will appeal to all active user age groups to inspire friendly competition at a variety of skill levels to deliver a durable and healthy user experience for indoor and outdoor facilities." - Douglass Whiteaker, President - Water Technology Inc.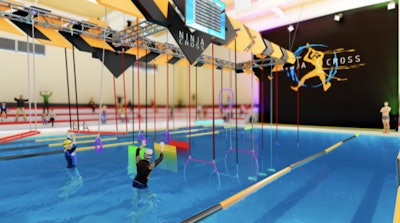 Presenting the NinjaCrossTM System: The NinjaCrossTM team partnered with the inventor based in Germany who has installed a similar system throughout Europe. With the help from President Steve Wagner, the NinjaCrossTM team launched the system in North America in April 2019, offering both indoor & outdoor systems. "Our vision is to create a brand-building attraction for 30-40 locations each and every year." - Kyle Rieger, VP Sales North America - NinjaCrossTM Systems
The NinjaCrossTM System has been quick to turn heads of many commercial pool builders across both the USA & Canada since being launched earlier this year. Knowing the City of Baytown was looking for a profitable new program, Steve Davis of Progressive Commercial Aquatics, introduced the NinjaCrossTM System to The City as a solution to their underutilized lap pool.
The timing with The City was perfect. After a successful 10 years in business, The City of Baytown Parks & Recreation Director Scott Johnson and Aquatics Superintendent Jenna Stevenson, decided it was time to modernize and rejuvenate their park and made the strategic decision to become the 1st aquatic facility in North America to install this game-changing feature at their park.
Since launching April 1st, the NinjaCrossTM team has been on the road non-stop, recruiting exclusive distribution partners and meeting with design firms in both the USA and Canada. The response has been overwhelming as the system creates extensive opportunities, targets a wide user group, and comes in at comparable pricing to waterslide complexes often found at aquatic facilities. The NinjaCrossTM team can be found at the following National trades shows this Fall including the National Recreation & Parks Association, World Waterpark Association & Athletic Business Conference. In early 2020, the NinjaCrossTM team will be hosting an educational session at the Association of Aquatic Professionals as well as the National Intramural-Recreational Sports Association Conference. Lastly, the NinjaCrossTM team can be found in Baytown, Texas where they will be celebrating their first installation in North America this fall!
"With the growing popularity of bodyweight movements and functional training, NinjaCross is a perfect fit for people looking to get out of their normal workout routine. This new and potentially explosive market offers revenue-generating fitness training programs that will allow staff to work with a variety of clients in a new, creative, and fun environment. From beginners to athletes, children to seniors, NinjaCross is a great option for clubs to generate additional revenue with specialty programs." - Nick Bolton - Nationally Recognized Trainer & Fitness Director, NinjaCross Systems.