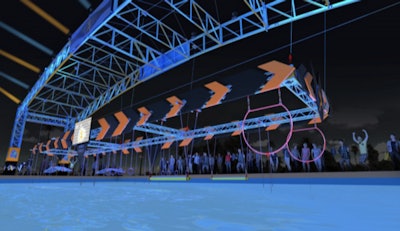 Baytown, Texas October 4th, 2019 - It is true, everything is BIGGER in Texas, and the city of Baytown and NinjaCrossTM Systems are excited to welcome the 1st patented NinjaCrossTM System to be installed in North America - A completely new arena in aquatics!
About NinjaCrossTM Systems
The NinjaCrossTM System is an unconventional challenge course and fitness system designed for indoor & outdoor aquatic facilities. With a push of a button, the NinjaCrossTM transforms an underutilized indoor or outdoor lap pool into a 2-lane challenge course made up of 6-8 obstacles per lane. The system delivers a brand-building attraction that differentiates facilities from others and builds extremely marketable program opportunities such as boot camp fitness classes, tournaments, leagues, summer camps, birthday parties and so much more! The NinjaCrossTM requires ZERO set-up, ZERO breakdown time and has ZERO interference with existing programs - you get 2 pools in 1. Your guests can be swimming laps one minute and with a simple push of a button, 60 seconds later, your pool can be transformed into a challenge course for competitions, events, and leagues. The opportunities are truly endless as the only requirements are four lap lanes and a minimum water depth of 4-feet. "It's physical, challenging, fun to do, fun to watch, and has a learning curve that makes you want to do it again." - Steve Crocker, Director of Sport Swimming - Water Technology Inc.
Log in to view the full article