SOURCE: Technogym
TECHNOGYM announces the new ARTIS LINE release setting the state of the art in the industry
Technogym – the world leading brand in fitness and wellness products, services and digital technologies and official supplier to 7 editions of the Olympic games – introduces the upgraded ARTIS line: the new state of the art in cardio and strength training, that leverages the heritage of the original ARTIS line bringing together the very best in design, biomechanical engineering, interactive technology and introducing new digital services and style options. ARTIS is a unique range dedicated to cardio and strength training including a total of 25 pieces of equipment that cover all muscle groups and join ease-of-use and comfort with the highest level of performance and user engagement.
Within the upgraded ARTIS line Technogym introduces the brand new ARTIS SYNCHRO: the best elliptical ever, with unrivaled movement quality thanks to the loading response footplates - that takes pressure off the feet by accommodating the natural ankle position – and the ergonomic upper body levers – that follows the spontaneous convergent motion of your arms. ARTIS SYNCHRO also offers you the widest stride ever – up to 67cm – and thanks to the new Quick Ramp technology you can change the gradient on the fly. And to make the workout even more effective, a selection of four science-based video guided routines that mix different types of exercise to help you achieve your objectives in a fun and effective way, with 25 different levels of intensity to set new challenges every day.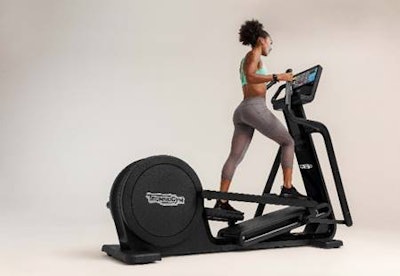 In order to strengthen competitiveness and attractiveness of the original Artis concept, across all the entire range the new ARTIS line will provide users innovative and cutting-edge features like:
Full HD screen on all cardio equipment
Big Size 21,5" Full HD screen on ARTIS Run – for the most entertaining experience
Engaging video guided Routines and streamed outdoor training content on all cardio equipment
Wireless mobile phone charger to seamlessly add extra comfort while exercising
Smooth and responsive end-user experience thanks to the most advanced, boosted up hardware and Android operating system
CONNECTIVITY
Each piece of ARTIS equipment is designed to be like a personal device belonging to each end-user thanks to the cutting-edge UNITY and UNITY MINI consoles – the first ever user intarface on strength equipment , able to provide extremely accurate biofeedback and exercise guidance. UNITY and UNITY MINI are fully integrated in Technogym's cloud-based platform Mywellness that allows you to aggregate the data collected on the equipment to your personal profile available anytime anywhere on all apps and personal devices.
SEAMLESS DESIGN
ARTIS is the first fully integrated collection of 25 cardio and strength products designed as one unique collection. The new, upgraded Artis range redefines the standard of its product category with its cutting-edge technology and seamless design for the best training feeling and comfort. Artis exceptional style comes in two different color versions to match all environments - whether it's a beautiful home, an attractive health club or a classy hotel: Diamond Black, with its dark gloss details, and Carbon Grey, bringing contrast between a shiny inlay and subtle matte finishing.
MOVEMENT FEELING
ARTIS equipment is ergonomically designed to the highest standards to maximise the efficiency of the workout and therefore optimize results. Designed in collaboration with Technogym's Scientific Research Department, the restyled ARTIS range lives up to Technogym's highest standards of research, safety, quality and design.
For more information about Technogym or ARTIS LINE please visit www.technogym.com
About Technogym
Founded in 1983, Technogym is a world leading international supplier of technology and design driven products and services in the Wellness and Fitness industry. Technogym provides a complete range of cardio, strength and functional equipment alongside a digital cloud-based platform allowing consumers to connect with their personal wellness experience anywhere, both on the equipment and via mobile when outdoors. With over 2,000 employees and 14 branches globally, Technogym is present in over 100 countries. More than 80,000 Wellness centers and 200,000 private homes in the world are equipped with Technogym. Technogym was the official supplier for seven recent editions of the Olympic Games: Sydney 2000, Athens 2004, Turin 2006, Beijing 2008, London 2012, Rio 2016 and PyeongChang 2018.