SOURCE: Matrix Fitness
COTTAGE GROVE, Wis. (February 25, 2020) – Matrix Fitness, one of the world's fastest-growing commercial fitness brands, is set to change the way the fitness industry thinks about slat-belt treadmills by introducing their thoughtfully designed Performance Plus Treadmill. The reimagined treadmill provides an exceptional running experience through unmatched performance for facilities that want to differentiate their offering with a product that outlasts traditional designs. Fitness facility owners and managers will be able to get their first look at the Performance Plus Treadmill at the 2020 IHRSA and FIBO industry trade shows.
"We knew that slat-belt treadmills had advantages for both owners and users," said Kevin Mast, Global Product Manager, Cardio, for Matrix. "But for the most part, they were only in athletic training facilities. We set out to build a slat-belt treadmill that would bring this level of performance to the cardio floor."
Running enthusiasts will instantly appreciate the shock-absorption and responsiveness of the Performance Plus. From the 61 x 157 cm / 24" x 62" running surface and a top speed of 25 km/h / 16 mph, to the quick adjustable incline up to 20%, the Performance Plus withstands intense exercise and demanding users.
In addition to the user experience, the Performance Plus was designed with facility owners and service technicians in mind. Engineered to be durable and efficient, the Performance Plus can log up to 100,000 miles with minimum maintenance, all while operating with far less power requirements than traditional belt-and-deck treadmills. The exclusive Synchronous Response Drive System™ is conveniently located at the front of the running surface, rather than under it, to simplify maintenance and service.
The Performance Plus Treadmill is compatible with Matrix's diverse new collection of consoles giving customers flexibility to deliver the experience that is right for their budget and their members. The Touch XL, Touch, Premium LED, Group Training LED and standard LED consoles offer a wide variety of choices when it comes to entertainment, exclusive exercise programs, connectivity, workout feedback and intuitive use.
"Offering choices when it came to technology was extremely important to us," said Andrew Kolman, Senior Global Director, Technology and Business Development, for Matrix. "We know not every fitness facility is the same, and not every fitness facility caters to the same kind of user. By offering everything from simple to sophisticated consoles, owners and operators can tailor the equipment experience to the desires of their guests. All of our consoles are also compatible with our Connected Solutions portfolio, which will enhance the experience in a way that allows them to differentiate from their competition."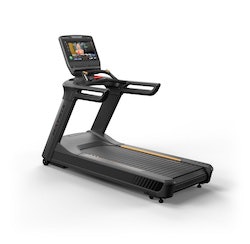 Other Performance Plus Treadmill highlights:
The Pure Stride Cushioning System™ provides a solid, shock-absorbing experience comparable to running on a premium-quality track and lasts for up to 100,000 miles with minimal maintenance
The 2.2 kW Synchronous Response Drive System uses less power to reduce operating costs
Maximum weight capacity is 227 kg / 500 lbs.
Continuous multi-grip handlebars are ergonomically sculpted to fit the hand for a secure, comfortable exercise experience
The step-on height is a low 25 cm / 10.5 inches.
The front-accessible motor cover makes it easy to access internal components
A cord-wrap cover provides easy access to power and data cables, while keeping them neatly out of the way for a cleaner aesthetic
Built-in caster wheels simplify regular maintenance
For more information about Performance Plus, visit matrixfitness.com.
About Matrix Fitness
Matrix Fitness (matrixfitness.com) is the fastest-growing commercial brand in the world and is the commercial brand of Johnson Health Tech. Matrix offers a complete portfolio of cardiovascular, group training and strength training equipment for health clubs and other fitness facilities.
About Johnson Health Tech
Johnson Health Tech, Inc. (JHT), Taiwan, is among the world's largest and fastest-growing fitness equipment manufacturers and is home to some of the most respected brands in the fitness industry, including Matrix, Vision and Horizon. The company manufactures a wide assortment of fitness equipment for both commercial and residential use, including treadmills, elliptical trainers, exercise bikes and strength training equipment. JHT's global management headquarters is based in Taichung, Taiwan, with global product development, marketing and engineering based in Cottage Grove, Wis.