SOURCE: Matrix Fitness
COTTAGE GROVE, Wis. (February 27, 2020) – Matrix Fitness is launching an all-new cardio offering designed to make it easier for customers to find fitness solutions specific to their needs. The company's three new cardio series are compatible with five reimagined consoles for combinations of performance and technology that can accommodate virtually any fitness facility's budget, space and members. Fitness facility owners and managers will be able to browse the new platforms and consoles for the first time at the 2020 IHRSA and FIBO industry trade shows.
"At Matrix, we believe that choice makes all the difference," said Mark Zabel, global chief marketing officer and president, US commercial division, for Matrix. "With our new cardio series and consoles, we'll be able to meet our customers where they are in terms of their needs. We're extremely excited to see how these new choices will help our partners achieve their goals."
Series Highlights
Performance Series cardio equipment provides an unmatched portfolio of cardio platforms designed for heavy use in upscale fitness facilities. Refined industrial design adds a premium aesthetic to cardio floors. The rugged components are tested against the highest international standards to withstand hard, continuous use for years. Ergonomic touchpoints like seats, handlebars, sealed buttons and conveniently positioned workout controls make even long, hard workouts comfortable and easy to navigate. Additionally, Performance Series cardio equipment includes a range of advanced features that simplify and reduce service needs to minimize downtime and maximize member satisfaction. Premium-quality commercial cardio platforms include Treadmill, ClimbMill, Ascent Trainer, Lower-body Ascent Trainer, Suspension Elliptical, Hybrid Cycle, Upright Cycle and Recumbent Cycle.
Endurance Series cardio equipment was created for heavy use and solid workouts in professional fitness facilities where space is at a premium and budgets need to stretch further. Streamlined designs simplify the exercise experience while still providing performance that can challenge cardio enthusiasts. The Endurance Series is designed and tested to stand up to tough environments and heavy use for years. Of the three new cardio series, Endurance offers the most choices with regards to features, functions and pricing. Full commercial cardio platforms include Treadmill, ClimbMill, Stepper, Suspension Elliptical, Upright Cycle and Recumbent Cycle.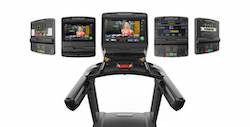 Lifestyle Series cardio equipment is ideal for casual use in multi-family housing fitness centers, small hotels, corporate wellness programs, municipal buildings and similar facilities. All Lifestyle Series cardio equipment features value-conscious design, reliable performance and a unified aesthetic that aims to make the exercise experience less intimidating. Simplified operation makes it easy for virtually anyone to start a workout, even users who are unfamiliar with exercise equipment. Light commercial cardio platforms include Treadmill, ClimbMill, Suspension Elliptical, Upright Cycle and Recumbent Cycle.
Five new consoles that range from basic LED designs to touchscreen interfaces that mimic popular operating systems are all compatible with the new cardio series. All of the consoles give users control of the data they collect, the content that keeps them engaged and the way they reach their goals. With WiFi-enabled consoles, facility staff can also access the digital solutions of the Matrix Connected Solutions portfolio, including their most popular digital offerings like Personal Trainer Portal, Workout Tracking Network and Asset Management.
"The right technology is more than just the finishing touch," said Andrew Kolman, senior global director, technology and business development, for Matrix. "It really dictates what kind of experience the user is going to have, and it can change the way facilities manage their machines and interact with their members."
The new Matrix cardio series are set to launch at IHRSA and FIBO in the summer of 2020. The simplified choices are expected to impact a wide range of fitness facilities, helping them create an offering right for their budget, space and the people they serve.
About Matrix Fitness
Matrix Fitness (matrixfitness.com) is the fastest-growing commercial brand in the world and is the commercial brand of Johnson Health Tech. Matrix offers a complete portfolio of cardiovascular, group training and strength training equipment for health clubs and other fitness facilities.
About Johnson Health Tech
Johnson Health Tech, Inc. (JHT), Taiwan, is among the world's largest and fastest-growing fitness equipment manufacturers and is home to some of the most respected brands in the fitness industry, including Matrix, Vision and Horizon. The company manufactures a wide assortment of fitness equipment for both commercial and residential use, including treadmills, elliptical trainers, exercise bikes and strength training equipment. JHT's global management headquarters is based in Taichung, Taiwan, with global product development, marketing and engineering based in Cottage Grove, Wis.