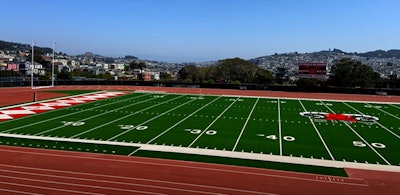 Austin, TX – Hellas Construction announced completion of a new multipurpose synthetic turf field for City College of San Francisco. The CCSF Rams are 10-Time Junior College Football National Champions.
Crews from Hellas Construction finished construction at the George M. Rush Stadium with a complete system for the football field including 19 mm Cushdrain®, Matrix Helix® synthetic turf and Elia Renufill™ infill for superior safety and fast play. The field passed a full battery of FIFA tests. FIFA standards use natural grass benchmarks for field performance in shock absorption, vertical deformation, energy restitution and more.
The field uses no crumb rubber infill.  Instead, Hellas installed Elia Renufill, an olive particulate infill that provides a firm and fast system which absorbs water for temperature reduction. Elia Renufill is a sustainable solution that does not cut down any trees.
According to Head Football Coach, Jimmy Collins "City College is the winningest junior college football program in the history of the United States, we've won more national championships, transferred more players to Division 1 schools and we are excited to have Hellas install the highest quality synthetic turf field in the United States."
Hellas Construction, headquartered in Austin, Texas, is America's largest sports surfacing contractor, specializing in the construction and installation of sports surfaces. Hellas manufactures its own synthetic turf, track, tennis and sports lighting materials at three Hellas owned factories and owns and operates its own heavy construction equipment staffed by specially trained and certified employee crews. This allows Hellas to control the supply chain, construction schedules, budgets, and project requirements without reliance upon independent third parties.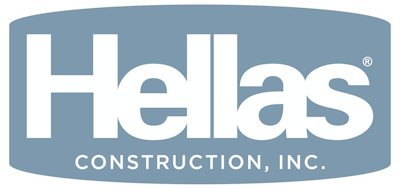 Hellas Construction Inc., headquartered in Austin, Texas, is the largest vertically integrated sports construction contractor in the United States, specializing in the general construction of sports facilities and sports surfaces. Hellas champions innovative artificial turf manufacturing, base construction, field, track, sports lighting, tennis planning, along with installation and maintenance. hellasconstruction.com