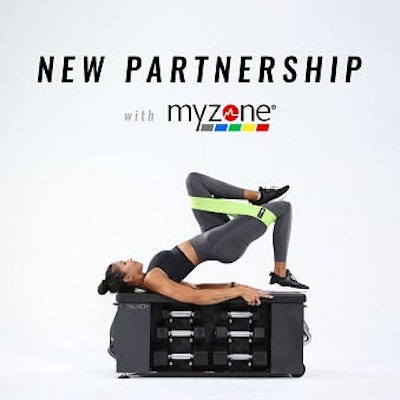 OCONOMOWOC, Wisc. – June 22, 2022 – Designed to deliver an even better exercise class experience, the new MZ-Smart Station from Myzone, debuting this month at the International Health, Racquet, and Sportsclub Association (IHRSA) 2022 Trade Show, is including FITBENCH workouts among its 1300+ individual instructional videos.
MZ-Smart Station is a series of screens that can be displayed in any workout area to instruct, organize, and engage an unlimited number of exercisers in up to 12 stations. Providing station-to-station direction for every exercise, the system leads participants through circuit workouts and features Myzone heart rate monitoring to display each individual's heart rate, percentage of maximum heart rate and intensity zone on the screen.
Furthermore, Smart Station displays exercisers' effort tiles on each screen as they move from station to station, thereby providing constant feedback, ongoing motivation, and friendly competition to deliver maximum results and foster community.
This valuable digital technology frees fitness professionals to focus more on form, coaching, and motivation while enabling them to monitor each participant.
Supplementing the Myzone content are a wide variety of FITBENCH exercises, which clubs and studios can take advantage of for instant expert programming utilizing these all-in-one, popular workout benches and their tools, including dumbbells, kettlebells, slam balls, and FITBANDs. Trainers and instructors can capitalize on the FITBENCH movements to vary classes, provide novelty, and incorporate unique challenges.
"We are very excited to have our instructional videos included as this premium new Myzone platform launches," says Tyler Danen, founder and CEO of FITBENCH. "Gyms and exercisers will benefit from access to a wealth of FITBENCH exercises to complement their current workouts and create new programming."
Check out the MZ-Smart Station and FITBENCH content June 22-24 at the Myzone booth (#1623) at the IHRSA 2022 Show. MZ-Smart Station can support any combination of Myzone screens, and is included as part of the Myzone V3 Software license fee.
About Myzone Myzone is a unique wearable fitness brand that rewards effort rather than ability, motivating its users to feel good about exercise and work harder. Myzone uses inclusive, game-based mechanics and social elements to build communities together on the Myzone app. Myzone creates personalized zones for each user, based on their maximum heart rate, which means anyone can compete together on a level playing field.Myzone develops accurate wearable technology, to provide engaging and motivational experiences, which support behavior change to make exercise habits stick. Myzone is used by two million people and already represented in over 9000 facilities in 84 countries. For more information visit www.myzone.org.
About FITBENCHFITBENCH is the original, all-in-one, space-saving workout bench. With safety and innovation at the forefront, every bench and accessory has been thoughtfully designed to maintain workout intensity and variety, while facilitating quick and efficient exercise transitions. These robust, organized, and portable benches deliver exceptional performance that drive participation at boutique studios, health clubs, and vertical market fitness facilities. At FITBENCH, culture is everything. We are the Benchmark of Fitness.