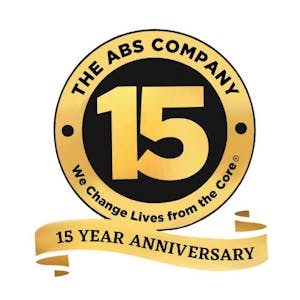 Lakewood Ranch, FL. March, 2022 — The Abs Company is celebrating 15 years in business this year.
The company was founded in 2007 and debuted at the IHRSA 2007 trade show with their flagship product - The   Ab Coaster®. That launch introduced the company to the industry. The Ab Coaster® has since become the #1 Ab Machine in the world - found in millions of homes and nearly twenty-thousand fitness facilities worldwide.
The company's Ab focused product line now includes the Ab Solo, Abs Bench X3 and the Vertical Crunch, all part of the patented 6 Minute Ab Zone. 
In 2016 the functional training line was launched with the patented TireFlip 180®, another industry innovation that has made an impact in facilities worldwide, providing tire flipping in a safe and compact design. The Abs Company soon added additional brands such as the X3S Pro and the number #1 HIIT machine worldwide - the SledMill®.  In 2018 the company entered the Glute space with their innovation - The Glute Coaster. 
Over the past 15 years The Abs Company has created or acquired a product portfolio protected by a total of 35 world wide patents and trademarks.The Abs Company is now one of the fitness industry's most identifiable brands.
"The Abs Company has the singular mission of changing lives through fitness, says Sean Gagnon, CEO of The Abs Company, " with our products in over 20,000 fitness centers and millions of homes in 55 countries worldwide, we know we are accomplishing that mission."
"Although the Abs Company has expanded over the years, we have remained true to our company purpose – We Change Lives from the Core®" stated Sean. "We have reached this milestone thanks to our valued customers, and the dedication of our incredible team. We are excited to see what the next 15 years have in store. We're just getting started!"
About The Abs Company 
The Abs Company has been specializing in core and functional training equipment for 15 years and their products can be found in over 20,000 facilities in 54 countries worldwide. For more information about the 6 Minute Ab System, call Michael Ritter at (609)532-6251 or visit www.theabscompany.com