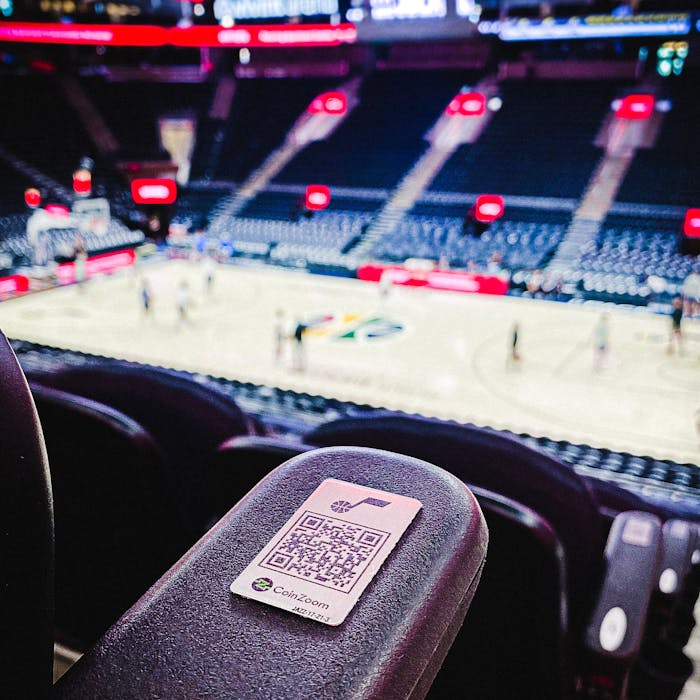 FORT WORTH, TX – April 13, 2022 – Digital Seat Media announced a partnership with Salt Lake City's Utah Jazz, marking the company's second American professional basketball partnership following the Oklahoma City Thunder.
Digital Seat Media installed over 18,300 tags in Vivint Arena, home of the Utah Jazz, allowing every fan inside the venue to use its QR code enabled hardware and software fan engagement platform to support the Utah Jazz and their recently announced partnership with CoinZoom, a U.S.-based cryptocurrency exchange and leading fintech company. Fans can now scan a QR code from their seat to order food and drinks, make purchases from the Jazz Team Store, access arena maps as well as download the CoinZoom app to access the latest Jazz NFT drops; all without having to download an app, regardless of their mobile phone brand. 
"Digital Seat is the perfect solution to support our CoinZoom partnership and their NFT offerings," said Jim Olson, President of the Utah Jazz. "Their technology is very flexible and provides the Jazz a turnkey solution while at the same time enabling a foundation for bringing additional innovative and creative experiences to our fan base in the future."
"We're excited to partner with the Utah Jazz and provide fans with a crypto interaction that will enhance their game experience," said Cameron Fowler, CEO of Digital Seat Media. "The Digital Seat platform and its unique fan engagement modules provide a strong foundation for future enhancements to the CoinZoom partnership as well as possibilities for additional fan and sponsor integration. We're extremely bullish on the future and can't wait to get started."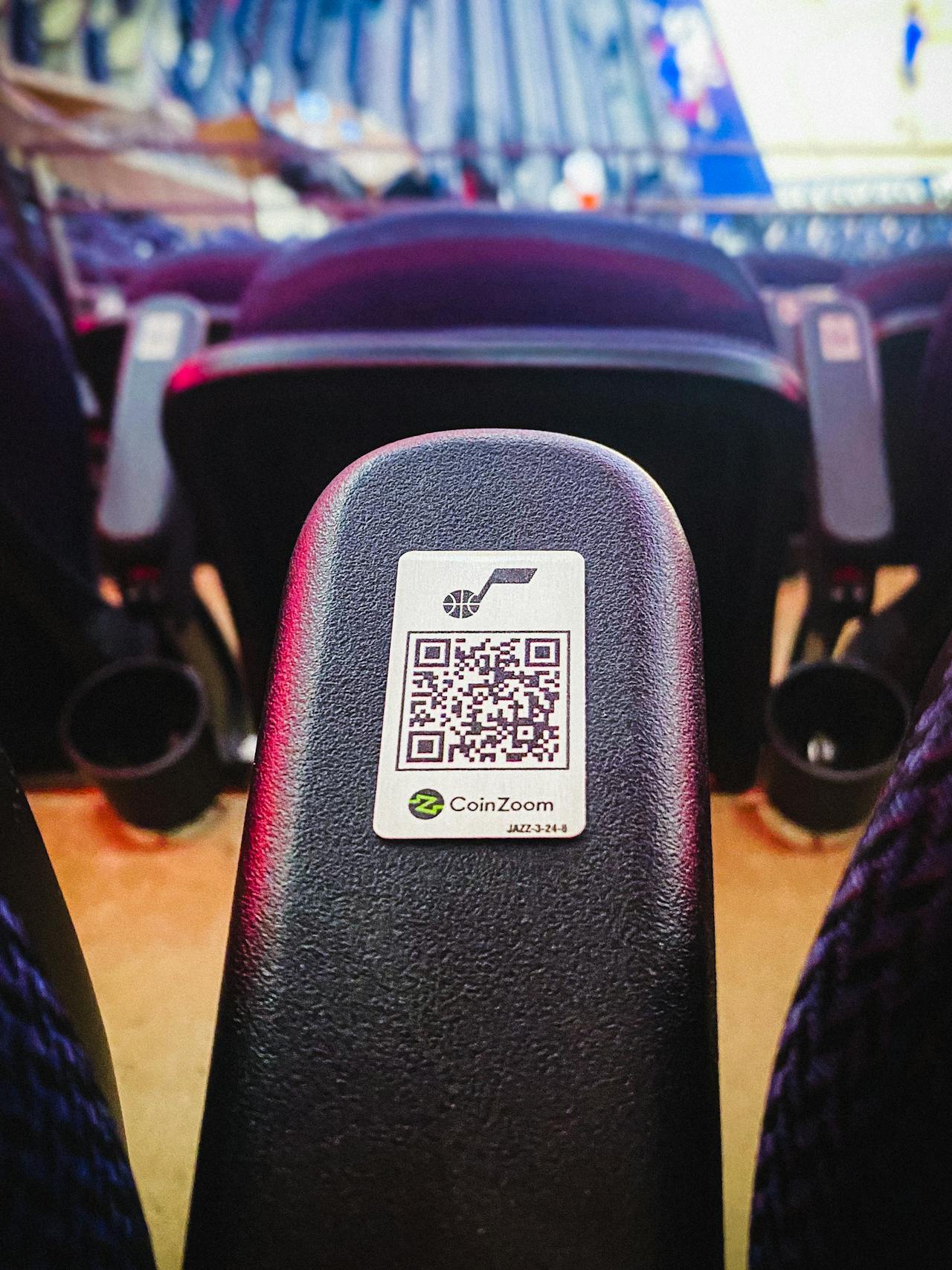 The Digital Seat portal can provide access to additional features including downloadable coupons and offers, team rosters, Instagram filters, player stats, and more. Digital Seat Media has installed over 1,000,000 digital seat tags at over 40 venues to date including tags at Baylor University, University of Washington, Virginia Tech, Rose Bowl Stadium, and Paycom Center: home venue for the Oklahoma City Thunder.
To learn more about Digital Seat Media, visit www.digitalseat.com and follow along on Facebook, Instagram, and Twitter.
About Digital Seat Media
Digital Seat Media is a real-time fan engagement technology platform connecting fans to brands, sports teams, and artists. By scanning a uniquely encoded QR code, fans can access the Digital Seat portal, from any environment, regardless of phone carrier and brand, and without the need to download an app or have access to wi-fi. Digital Seat's metal tags are installed on venue seats, armrests, and bleachers, enabling fans to engage in real-time with the event taking place. Digital Seat also offers a digital version of its tags designed for on-air broadcast, OTT programming, event credentials, and more. The portal offers a wide variety of content and interactive digital modules including gaming, in-seat purchasing, sweepstakes, event information, and more, allowing fans to engage right from their physical or virtual seat through their mobile device. Digital Seat tags are available in over 40 venues representing over 1 million tags offering enhanced experiences across the country. For more information, visit www.digitalseat.com and follow along on social media @digitalseatmedia.
About the Utah Jazz
Founded as the 18th member of the National Basketball Association (NBA) in 1974, and located in Salt Lake City since 1979, the Utah Jazz are committed to excellence as a team and in the community. On the court, the Jazz are the second-winningest team in the NBA over the last 30 years, having won nine division titles and two Western Conference championships along with 17 seasons of 50-plus wins, and are supported by one of the most passionate fan bases in all of sports. The Utah Jazz also operate the Junior Jazz program, the largest and longest-running youth basketball league in the NBA, featuring more than 60,000 players and an additional 13,000 volunteers who take part annually across six states. For more information on the Utah Jazz, visit www.utahjazz.com.