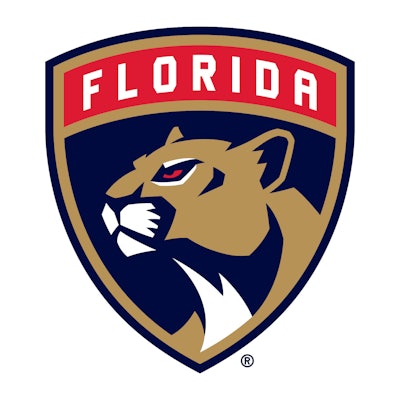 Bridgewater, New Jersey — May 18, 2023 — Signify (Euronext: LIGHT), the world leader in lighting and the Preferred Lighting Company of the National Hockey League (NHL®), and the Florida Panthers have recently upgraded FLA Live Arena with energy-efficient LED and connected lighting. This project brings together Signify's best-in-class Ephesus sports lighting by Cooper Lighting Solutions, Interact management software and Lumec outdoor lighting to help the venue shine for players and spectators and meet its sustainability objectives.
Transforming into a premium venue
The Panthers' new sports lighting system consists of Ephesus LumaSport 8 tunable white and Prism RGBA luminaires from Cooper Lighting Solutions that Stevenson and his team can dynamically control with the Interact IoT platform. The LumaSport 8 luminaires are adjustable to meet the NHL's high correlated color temperature (CCT) and light uniformity requirements, so the ice visually pops for players, fans and TV broadcasts. Operators can also produce colorful light displays with the Prism RGBA fixtures, to celebrate different moments during games or to support other events held at FLA Live Arena.
"The beauty of this system is that it seamlessly integrates with the arena's existing building controls, enabling the Panthers to have a single solution to easily manage their sports lighting," said Martin Stephenson, Head of North America Systems & Services and President & CEO, Canada, Signify. "The team could even extend the lighting and scene management across other areas of the arena, to drive further operational efficiency. With Interact, FLA Live Arena is a future-ready venue."
Assisting with security, energy-savings benefits
Signify and the Panthers also replaced its existing, high-maintenance High Pressure Sodium fixtures in the parking lot with Lumec Roadfocus Plus LED luminaires. The lighting is designed to improve visual acuity for drivers and helps create a sense of comfort as arena visitors walk to their cars after evening events, in addition to delivering greater energy efficiency. 
About FLA Live Arena
Florida's premier sports and entertainment venue, FLA Live Arena is Florida's largest indoor arena and the second largest sports and entertainment venue in South Florida. Home of the NHL's Florida Panthers, the state-of-the-art FLA Live Arena continues to host hundreds of major concerts, events, and performance acts each year, which have included the likes of Elton John, Harry Styles, Beyonce, Lizzo, WWE, Billboard Latin Music Awards and more. In December 2020, FLA Live Arena became the first NHL arena to earn the International WELL Building Institute (IWBI)'s prestigious Health-Safety Rating, which serves as the global benchmark for safety in public buildings. Located in Sunrise, Florida across from the Sawgrass Mills Mall, which attracts upwards of 30 million visitors annually, the Broward County-owned FLA Live Arena is one of the top-ranked venues of its kind in the world, servicing Broward, Collier, Miami-Dade, Monroe and Palm Beach Counties and beyond. For more information about FLA Live and upcoming events, games, and concerts, visit www.flalivearena.com and follow @FlaLiveArena on Twitter, Facebook and Instagram.