Clubs for the Cure/Augie's Quest is uniting the fitness industry in its fundraising efforts to find a cure for ALS.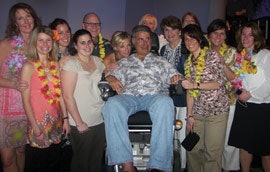 There were those who doubted whether a grassroots fundraising initiative could thrive within the health club industry. But staff members at both New Jersey locations of The Atlantic Club, who in the span of two summers raised more than $800,000 for breast cancer research, have an answer for the naysayers. They call it "Clubs for the Cure."
Once club president and owner Patricia Laus joined the Founder's Committee for Augie's Quest, the three-year-old effort of fitness pioneer and Life Fitness founder Augie Nieto to help find a cure for amyotrophic lateral sclerosis (ALS), club-level fundraising had a voice. As the committee prepared for The Beach Bash for Augie's Quest, held March 7 at the International Health, Racquet & Sportsclub Association's annual conference, Laus insisted that the combined power of all fitness providers, their staffs and membership could accomplish great things in the fight against ALS, a disease that attacks the nerve cells controlling muscle function. "She said, 'We have the formula,' " recalls Kevin McHugh, chief operating officer of The Atlantic Club. " 'We can tell other clubs how this can work, because it's worked for us already. It's not a charity telling a club how to do something; it's a club talking to another club, employee to employee, about how it can work.' "
And so "The Power of One" campaign was born. The Clubs for the Cure web site changed to reflect this latest commitment to funding ALS research, major trade magazines donated or greatly discounted advertising space, and an information booth was established at the IHRSA trade show. The Atlantic Club assigned staff members regions of the country, and phone calls were made soliciting help from every health club within each region. Laus's action plan was simple and clear, according to McHugh. "We're not asking clubs to do major initiatives. We're asking clubs to give us one event for one hour on one day for one man's quest - for Augie," he says. "There are 70,000 health and fitness facilities in the United States. The potential of 70,000 facilities and their members is limitless when we can harness the power of an industry working together."
Most often, the fundraising commitment involves taking one hour-long group cycling class and charging a per-rider free (perhaps $25, $50 or $100) to participate on that day. The Atlantic Club has found that moving bikes into the club lobby, or even onto the parking lot (with a DJ providing music), can easily double the money raised by inspiring non-participants to donate at the front desk. Corporate sponsorship can emerge, as well. A local branch manager for UBS Bank kicked in $2,500 for the right to hang a banner during class.
Clubs without a group cycling infrastructure can choose any group exercise format, and those without the time or wherewithal to promote the event can tap The Atlantic Club's own marketing team, which will customize literature for them. "There really is no cost to the club owner," says McHugh. "We fully understand that owners are requested to make donations to many charitable causes throughout their communities. The Clubs for the Cure/Augie's Quest formula for success is not about individual owners making a donation, but rather getting owners to enroll their staffs, members and communities in this effort to raise ALS awareness and to obtain research funds. It is about connecting individuals to make a difference in finding a cure for this disease."
This year alone, researchers have made encouraging new inroads into the roles that genetic mutations, protein interactions and nerve-muscle signals may play in ALS progression and potential treatment.
Meanwhile, the fundraising success stories from clubs are just starting to come in, even if the storytellers don't always recognize them as such. One club owner put together a fundraiser in advance of The Beach Bash, which alone raised more than $1.5 million on the spot. Says McHugh, "He was disappointed because he came in with $1,900. I called him up and said, 'Why are you disappointed? You have done a phenomenal job, and your $1,900 will make a huge difference in inspiring other clubs to start conducting their events. Feel great about it!' "
In fact, most clubs have been contributing between $500 and $2,500, according to McHugh, who adds that 800 clubs - from small independents to national chains - have so far joined Clubs for the Cure, which is fast approaching the $1 million mark in total funds raised. (Augie's Quest has raised more than $14 million to date.) It is a cause that has made friends out of competitors. "People we never talked to before because we considered them our competition, we're high-fiving each other at the IHRSA conference over their successful events and being part of our Clubs for the Cure/Augie's Quest team," says McHugh. "It really has broken down barriers."
The effort has even begun to unite for-profit clubs and not-for-profit fitness providers. "There's no reason why a hospital that has a fitness center, or a school or a community center, shouldn't be working on this program with us," McHugh says. "There's no reason for the industry to be split when it can, as a group, make such a difference. There's no reason why we - for-profits and not-for-profits - can't be working as one."
For more information on Clubs for the Cure, visit www.clubsforthecure.com or call Jessica Hayes at 732/219-5333.