Clubs for the Cure/Augie's Quest is uniting the fitness industry in its fundraising efforts to find a cure for ALS.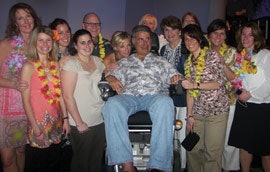 There were those who doubted whether a grassroots fundraising initiative could thrive within the health club industry. But staff members at both New Jersey locations of The Atlantic Club, who in the span of two summers raised more than $800,000 for breast cancer research, have an answer for the naysayers. They call it "Clubs for the Cure."
Once club president and owner Patricia Laus joined the Founder's Committee for Augie's Quest, the three-year-old effort of fitness pioneer and Life Fitness founder Augie Nieto to help find a cure for amyotrophic lateral sclerosis (ALS), club-level fundraising had a voice. As the committee prepared for The Beach Bash for Augie's Quest, held March 7 at the International Health, Racquet & Sportsclub Association's annual conference, Laus insisted that the combined power of all fitness providers, their staffs and membership could accomplish great things in the fight against ALS, a disease that attacks the nerve cells controlling muscle function. "She said, 'We have the formula,' " recalls Kevin McHugh, chief operating officer of The Atlantic Club. " 'We can tell other clubs how this can work, because it's worked for us already. It's not a charity telling a club how to do something; it's a club talking to another club, employee to employee, about how it can work.' "
Log in to view the full article