Industry veterans who have been around long enough to remember the first incarnation of the Athletic Business Conference & Expo - at this point, "old-timers" may be the only appellation that fits - recall it more for its congenial atmosphere than any equipment or educational materials they might have seen displayed on the 62 tables arranged around the downtown Chicago Marriott Hotel "salon" ballroom.
Industry veterans who have been around long enough to remember the first incarnation of the Athletic Business Conference & Expo - at this point, "old-timers" may be the only appellation that fits - recall it more for its congenial atmosphere than any equipment or educational materials they might have seen displayed on the 62 tables arranged around the downtown Chicago Marriott Hotel "salon" ballroom. At the time, December 1982, this was an industry waiting to happen, and the AP&F (we were Athletic Purchasing & Facilities then) Facilities/Equipment Conference was among the first opportunities for sales reps, facility architects and attendees, who were primarily from the realm of college and high school athletics, to get to know each other better. The more forward-thinking among them knew they were on the verge of something much bigger, and many of the relationships forged there shaped the industry as it grew.
People still attend conferences and trade shows to catch up with old friends, but the Athletic Business Conference has always stood out as an event to be taken more seriously. So says Arnie Biondo, executive director of the Carol Stream (Ill.) Park District, who in years past has served as a seminar presenter and who, this year, is merely attending along with eight of his employees.
"I was hanging out with a couple of other speakers prior to last year's conference, and we were talking about what a good conference it is," Biondo says, "and one of them said, 'You know why? It's because it's all trade show and educational sessions - you don't go there having to run to a committee meeting or deal with all the baloney that happens at association-run conferences. It just has a focus on getting better at what you do."
This year's show, Dec. 1-3 in Orlando, Fla., strikes Biondo as even more vital than most to attend. In his case, the district has just broken ground on a new recreation center, and his staff will utilize the expo to look closely at fitness equipment and products to outfit the pool and gym. But all nine of them will attend seminars, as well.
"When times are tough, that's when you need to up the education budget," Biondo says. "That's when you need to have your people out there finding out about ways other people are dealing with budget issues or learn how to generate more revenue or keep your customers. Now's the time to be spending money on that."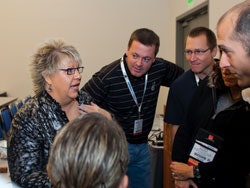 It's a sentiment shared by many, apparently; as this is written, conference and trade-show-only registrations are up a combined 46 percent over the same time last year, seven weeks prior to the conference in San Diego. Certainly, Orlando is a bigger draw - Berry Oliver, associate executive director of the A.E. Finley YMCA in Raleigh, N.C., says he's coming to ABC for the first time as a change of pace from his usual conference experiences. "I want to participate in a conference that is not specific to just YMCAs," he says. "Seeing how others deal with similar issues will be a big thing for me - and, oh yeah, my family is coming so they can go to Disney."
Mike Holste, assistant director of the Mesa (Ariz.) Parks, Recreation and Commercial Facilities Department, is another first-timer - "I've been attending the National Recreation and Parks Association Congress and Exposition, but I have heard so many good things about the AB show that I thought it was time for a change" - though members of his staff have attended ABC for the past 10 years. In spite of limited continuing education dollars, his department will have been represented this year at NRPA, the Learning Resources Network Annual Conference and several smaller state conferences and workshops.
"For the past five years or more, money for travel and education has been hard to come by, especially in the community recreation area, so it is very important that our department maximize our participation opportunities," Holste says. "We therefore only send one or two staff members to various conferences in order to generate as much information as possible that is then shared with the rest of the staff."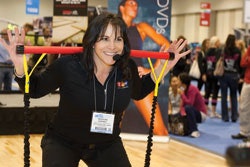 The large number of military personnel who attend ABC take advantage of concurrent meetings, but Lisa Sexauer, fitness, sports and deployed forces program manager at CNIC (Commander, Naval Installation Command), says they come for the same reasons as their civilian recreation and fitness brethren. "The real driver is continuing education, programming and purchasing ideas, and networking," she says. "The latter is a huge driver for the military, as they want to hear about what is going on at other bases and meet their counterparts."
Professionals with long or intermittent associations with the AB Conference often have different reasons for coming each time they attend. Robin Yeager, director of Fairmont State University's Falcon Center, has attended several times over the past 10 years, initially as a mid-management employee immersed mainly in educational sessions. However, "when I was hired as the director of a new student activity center that combines recreation and a student union, I attended AB to evaluate equipment and to attend seminars in the Facility Design & Construction track. This year, I will be attending with my assistant director, and we'll be looking for innovative programming ideas and new equipment at the trade show, as well as networking opportunities. As always, I'm looking forward to the keynote, and I'm also a regular at the early-morning workouts."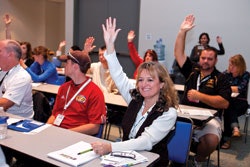 Diane Dahlmann's purpose in attending has remained fairly consistent through the planning and opening of the University of Missouri's renovated Student Recreation Complex. This year, she isn't sure whether she herself will make the trip to Orlando, but the MizzouRec department, of which she is the director, will have as many as six attendees. Why that many? "I have a lot of new people, and I have a lot of old people doing new things in the organization," Dahlmann says. "Another thing is, we bought our equipment and started off with a relatively new facility six years ago, but now it's time to replace the equipment and refresh fixtures and furnishings. If you have an eye to the future, as you well should, then it's essential you attend an event like the AB show, to make certain you aren't doing the same old thing over and over again, but doing the next thing. It's critical to me and to my team to stay current and see what is new on the market, hear what is being discussed, see what new facility designs are yielding, and take our cues from there in terms of how we spend our dollars."
In 26 years with gymnasium equipment supplier Schelde North America, David Noe, the company's vice president of sales and marketing, has gotten used to his long annual late-autumn road trip. Each December, his travels take him to the Athletic Business Conference, the National Athletic Directors Conference & Exhibit Show and the American Volleyball Coaches Association Annual Convention - this year, that means swings through Florida, Indianapolis and San Antonio on his way back to Christmas at home in Grand Rapids, Mich.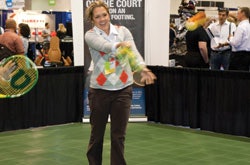 He describes the latter two shows as "old-home week," in which he catches up with the many people he's enjoyed getting to know over the years and fulfills small orders of equipment for regular clients. The AB Expo is different. Solo at the high school and volleyball shows, he's joined at ABC by Schelde's president and the head of its basketball division. "We kind of gear up for AB because it's been good for us over the years, and the who's who of the industry is usually there, so you get to see everybody," Noe says. "AB seems to be on the hit list for people who are really doing a project, as opposed to just dreaming of one, and usually the principals and upper-echelon people from all the vendor companies are there, too. They don't just send underlings."
Noe's a firm believer in the whole trade-show concept, taking advantage of his time on the various expo floors to meet with clients as well as facility architects and other exhibitors, which has allowed Schelde to expand its collaborations with other firms (and helped spur his company's expansion from a supplier of two lines of basketball and volleyball equipment to a company that handles complete gym interiors).
"Trade shows are great places for clients to meet with vendors, AB more than any other," he says. "It's a good place for bringing together several different players on a project - architect, owner and vendor - and the owner a lot of time will bring more than just the principal to AB, maybe also the person who's going to run the day-to-day business and the program manager. Doing the AB show for a couple of days saves me days and days of travel, because I can get three or four people who are involved from the owner's side together in the booth at the same time."
Ken Curry, a vice president at Rexdale, Ont.-based sports surface cover supplier Covermaster, goes to many shows that serve as what he calls "ongoing relationship management" - saying hi to old friends and clients, cultivating steady repeat sales. "AB is more about industry relationships," he says. "Unlike the stadium managers or sports turf managers shows, most of the people coming through AB are not people with whom we have an ongoing business relationship."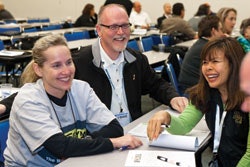 At least, not yet. "Most shows, you're looking specifically for leads," Curry says. "Maybe you're not walking out of there with business that day, but new leads that you can follow up on and turn into business. You could be looking at 20 or 70 leads during a show; it really depends. AB is typically on the higher end, because it's a bigger show with more buyers."
For facility architects, a trade show is always about the long term, says Colleen McKenna, an associate principal with Cannon Design in Boston. "We don't have a lot of expectations of getting a lead that's going to materialize anytime soon. It's rare that we'd go to a conference and find out about a project we knew nothing about, and in a month they're selecting an architect," she says. "What I do expect is to continue relationships with potential clients. There are also people I see at AB who I don't necessarily have any immediate business with, but I enjoy just talking with them about what's happening in the industry and helping them with their problem-solving."
The AB Expo's breadth makes it particularly attractive to exhibitors who use it as their clients do - to find out what's new.
"We walk the floor all the time, and we also have vendors come to us," McKenna says. "I'll go by locker companies or surface companies, and ask them about improvements to existing products, and sometimes I learn about subtleties in new product development that I might not be aware of. Facility owners go to shows seeking vendors to learn about products, and they're heavily engaged in that decision-making, but ultimately the architects have to write the specifications and specify the products. Clients may come to our booth and say they saw a locker that they want, and then I'll go take a look at it."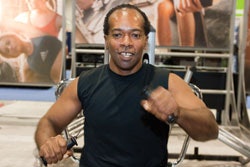 Attendees at the National Intramural-Recreational Sports Association Conference & Expo know that everyone they see in seminars and on the expo floor is in the field of college recreation. International Health, Racquet & Sportsclub Association conventioneers are all health club owners or employees. The Society for College and University Planning's annual conference serves - you guessed it - campus planners.
ABC's attendees sit in seminars, go on facility tours and stroll the expo floor alongside military recreation and fitness professionals, health club owners, college and municipal recreation directors, high school and college athletic directors, YMCA and JCC directors - all walks of sports-industry life. Concurrent annual conferences held by the International Council on Active Aging, the National Alliance for Youth Sports and the Medical Fitness Association give ABC attendees an opportunity to share information across a broad spectrum of sports, recreation and fitness facility types. Biondo says this opportunity (shown in the breadth of topic areas of the conference's seminar tracks) is what leads the Carol Stream Park District to send so many different employees.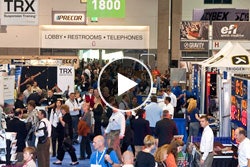 Watch Video from ABC 2010 in San Diego
"The conference program has evolved quite a bit with a really nice array of aquatic-focused sessions," agrees Dahlmann, citing one example. "Our five aquatics people now have something directly applicable to their specialization, and it's made a difference for us in terms of who attends."
That ABC's attendance numbers have risen against the backdrop of a struggling economy speaks to perceptions of its value, and attendees - even those who say they're looking forward to the purely social events - appear to be looking to get as much value as possible from the experience.
"People have a tendency to send their people to conferences as a reward," Dahlmann says. "I've never approached it like that. I'm far more interested in what contribution people will make to our organization as a result of their travels. Because, you know, it costs us about a grand a person to send, and there's some shuffling around back at home while they're away from work. What is the return on our investment? I need people to really have something tangible in their hands that they want to implement when they come back."