It was a night of dress blues and olive drab, and ultimately a lot of green. The fifth annual B*A*S*H for MDA's Augie's Quest raised more than $822,000 toward amytorphic lateral sclerosis research Friday during the 29th International Health Racquet and Sportsclub Association Convention & Trade Show in San Diego.
"It's a very healthy number," says Kelly Campbell, associate director of business development for the Muscular Dystrophy Association. "We're actually up about $200,000 from last year."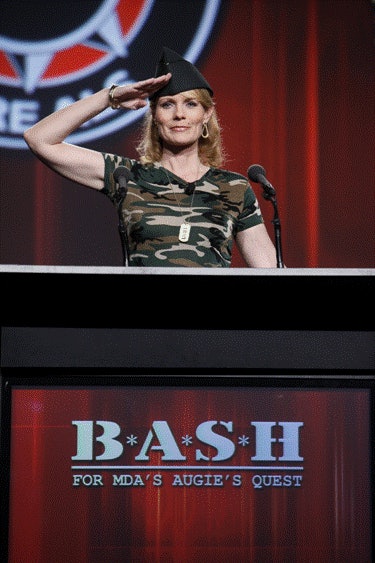 Attendance was up, too, to 775 party-goers - many donning the "Army chic" attire encouraged by event chairman and IHRSA icon John McCarthy and this year's B*A*S*H committee. Fifty active military service members from local bases greeted guests, who surveyed auction items arranged on camouflage-draped tables situated amid a vintage Army ambulance, a Willys Jeep and an artillery cannon. Emcee Jann Carl looked more like an Andrews sister than a former "Entertainment Tonight" correspondent as she enthusiasticlly announced to the dinner audience that she was "reporting for duty."
Of course, the entire evening was a collective, heart-felt salute to its chief inspirational officer, Augie Nieto, the fitness entrepreneur whose personal battle with ALS led to the launch in 2006 of inaugural Bash.
"Augie was again overwhelmed by all that the fitness industry has done," Campbell says. "He was happy to see all the familiar faces and certainly appreciated all the support."