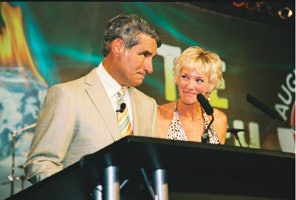 "I'm going to beat this sonofabitch."
That was Life Fitness co-founder Augie Nieto's most powerful message to an audience of 2,000 friends and fellow fitness industry leaders who gathered March 22 to help him do just that. The line, delivered in the determined but carefully measured speech that has come to signify Nieto's advancing case of amyotrophic lateral sclerosis, drew thunderous applause at the Las Vegas Hilton, site of the 25th annual International Health, Racquet and Sportsclub Association convention and, on this night, The Bash for Augie's Quest.
Augie's Quest/Cure ALS, launched after Nieto was diagnosed with the terminal disease in March 2005, has gained astounding fund-raising might, even as its namesake - the fitness pioneer whose Lifecycle spawned a successful corporation and a cardiovascular training revolution - steadily loses his own muscle function. Before its doors opened to a lavish spread of hors d'oeuvres and a lineup of entertainment that included appearances by comedians Bob Saget (live) and Robin Williams (via video), seven-time Tour de France champion Lance Armstrong and Grammy-winning rock group The Doobie Brothers, The Bash had already been tabbed the top single ALS fundraising event ever. Then, the spontaneous outpouring of support raised the bar still further. The Bash's live auction, silent auction and pledge drive combined to raise more than $2.8 million, a figure that doesn't include non-monetary gifts such as one advertising firm's $1 million pledge toward the continued promotion of Augie's Quest.
Of the total amount raised, $1.6 million was pledged directly toward ALS research conducted by the Muscular Dystrophy Association. Tabletop pledge sheets allowed donors to "buy time," with $65 funding one minute of MDA ALS research and on up to $31,500 funding a full day. Nieto's in-laws, Jack and Kathy Bransford, set the tone during an introductory video presentation by pledging matching funds up to $1 million. Said the 48-year-old Nieto, who with wife Lynne co-chairs MDA's ALS Division, "We have exceeded our expectations tonight for what we're trying to do, which is raise awareness of ALS and the need for research."
The live auction alone raised an additional $175,500 on the strength of a one-on-one basketball game against Magic Johnson (which garnered a winning bid of $40,000) and a Trek bicycle used and autographed by Armstrong ($31,000). The silent auction added $173,581. Items up for bid included a pair of boxing gloves signed by "Raging Bull" star Robert DeNiro, as well as several pieces of fitness equipment donated by leading manufacturers such as Octane Fitness (a company currently chaired by Nieto), Life Fitness, Precor and Star Trac.
It was this cooperation among industry competitors that most struck Armstrong, who like Saget and Williams donated his time to the event. "I think it says a lot about Augie - the fact that everybody came together regardless of whether they are from competing gyms or competing companies that make equipment," Armstrong said. "They all say, 'This is one of our own. This is a guy who has committed his life to our industry and who has been dealt a serious blow. We're going to be there for him. We're part of the Quest.' "
To join Augie's Quest, contact ALS Division, Muscular Dystrophy Association, 3300 E. Sunrise Drive, Tucson, AZ 85718; 520/529-2000; als-mda.org; augiesquest.org.