The first time I saw Rick Majerus in person, he was sitting in seldom-used end-court bleachers that had been wheeled into position for a Wisconsin Interscholastic Athletic Association Class C basketball sectional at my high school alma mater's field house. I was there to cover a game for my hometown newspaper, The West Bend News. Majerus, an assistant coach at Marquette at the time (this was the mid-'80s), was there to scout Kohler, Wis., phenom Joe Wolf, who would eventually attend North Carolina.
The next time I saw Majerus in person, he was sitting to my immediate left at the Facilities of Merit reception as part of ABC 2006 in Las Vegas. AB's Mike Popke and I had escorted Majerus and his traveling companion through Mandalay Bay to the site of his keynote address. I remember talking to him along the way about having covered one of his early recruits at Utah, Terry Preston, while I was the sports editor for a paper that included Homestead High School in Mequon, Wis., among its beats. As Majerus huffed and puffed his way down the hallways, he told me that he remembered Preston fondly, but seemed more concerned about how many people would be hearing him speak. As the FOM winners were profiled via video, Majerus leaned over to me and expressed his genuine admiration for the work the architects had done. He was truly impressed. He scribbled a few words onto an empty file folder and carried it up to the podium. That was the extent of his prepared notes.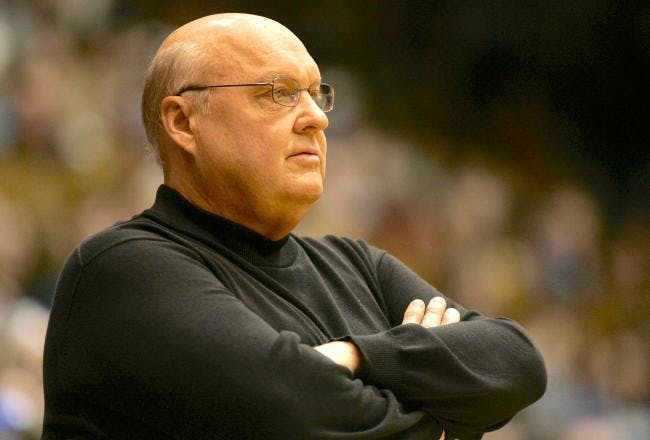 1212_majerus.jpg
I was saddened to learn that Majerus died Saturday from heart failure at the age of 64, but I will long continue to retell one of the funniest snippets of that ABC speech. Majerus, who was raised Catholic and coached at Jesuit-led Marquette, said that the question that still haunted him didn't deal with the miracle of virgin birth or the resurrection. "What I want to know is," Majerus said, "did the Corinthians ever write back?"
Since then, Majerus took over a middling program at St. Louis University (another Jesuit institution) and got it to the NCAA tournament for the first time in 12 years last season, losing in the second round to the top seed in the Billikens' regional, Michigan State. He went 517-216 in 25 years as a head coach, took 12 teams to the tournament, and one (Utah) to the NCAA Final (in 1998). Prior to this season, he announced that he would not return to the SLU sidelines due to his heart condition, which dated back to 1989.
Like many successful coaches, he was controversial on and off the court. His appearance at a Hillary Clinton rally during the 2008 Democratic primary campaign caused a stir when he aired his pro-choice stance to a local TV reporter, prompting me to write about coaches and their politics.
I found Majerus utterly fascinating, even more so after reading S.L. Price's 2008 Sports Illustrated piece about him - one of the best character examinations of a sports figure I've ever read. SI's Seth Davis now offers his own interesting take. Both journalists got closer to the coach than I ever did, so if you've read this far, take the extra time to get to know a truly unique individual - one who leaves a sizable hole in the collegiate coaching universe.