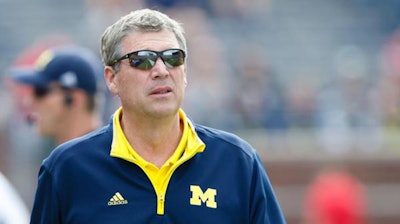 It's been rumored for weeks and now it looks like it's actually going to happen.
The New York Times and other media outlets are reporting that embattled Michigan athletic director Dave Brandon is set to resign. University president Mark Schlissel has called a press conference for Friday afternoon. No other details were provided by the school. From The Times:
Under pressure from Michigan's board of regents, on which he used to sit, Dave Brandon planned to resign as athletic director of the university Friday after nearly five years in the role.
A source familiar with the university's thinking confirmed the resignation. Michigan said Mark Schlissel, the university president, would have a news conference at 1:30 p.m.
Under Brandon's tenure, Michigan's once proud football program, which has the most wins in college football history, has struggled on and off the field. After an 11-2 season in 2011, the Wolverines have posted a worse record in each consecutive year under head coach Brady Hoke. In 2012 Michigan went 8-5, followed by a 7-6 season in 2013 and this year Michigan is off to its worst start in program history at 3-5 (1-3 Big Ten).
RELATED: Brennan: Hoke and Brandon Must Go
Things came to a head following the team's 30-14 home loss to Minnesota on September 27th. Besides the outcome, fans and media criticized Michigan for its handling of quarterback Shane Morris. Morris appeared shaken up after taking a huge hit, but Hoke kept him in the game. At a news conference the following Monday, Hoke would not confirm if Morris had suffered a concussion. Brandon later confirmed that he did.
Adding fuel to the fire was a student protest on Michigan's campus advocating the firing of Brandon. Chants of "Fire Brandon" have been heard throughout Michigan Stadium on game days.
But Brandon's troubles date further back than football season according to the Detroit Free Press. Brandon, once heralded as a perfect blend between businessman and Michigan Man, was criticized this summer when the Michigan Athletic Department requested for fireworks to be shot off during football games. The school's Board of Regents publicly denied the request, some complaining that Michigan's football traditions were being lost.
More recent controversy emerged around the football program this past weekend during the team's rivalry game against Michigan State. Prior to the game, Michigan players drove a stake into the ground on Michigan State's home field, upsetting the Spartan players and coaches. The Spartans went on to beat the Wolverines 35-11 and have now beaten Michigan in six of the last seven meetings.
Hoke later apologized for his team's actions saying they meant "no disrespect" to Michigan State.
Brandon, the former CEO of Domino's Pizza, is a Michigan graduate and played football for the Wolverines under storied coach Bo Schembechler.