Every year, attendees from a variety of backgrounds come to the Athletic Business Conference & Expo — all driven by different motivations that inform each unique experience. We're catching up with attendees to see what they've taken home from ABC.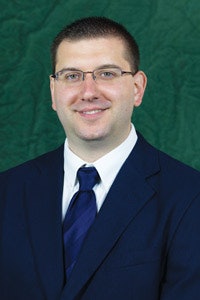 Building a career in campus rec. Most of us in campus rec started off as student employees at our recreation centers and soon found out that we could actually make a career of it. I did my undergad at Ohio State and worked as a student manager at the rec center. Ohio State's recreation director at the time, Mike Dunn, was a legend within the NIRSA field. He was a great developer of students and sparked my interest. I did grad school at Georgia State University and got my master's in sport management and facility operations. Then I interned at Washington University in St. Louis doing intramural and club sports. My first fulltime job was at Emory University, and for the past four and a half years, I've been at Cleveland State University.
What brought him to his first ABC in 2014. With travel budgets, it's hard for us to go to multiple conferences. I happen to be president of the Ohio Sports Recreation Association, and they provided me travel funds to go to NIRSA, so with my own school travel funds, I had the opportunity to try a new conference. I'd heard great things about the Athletic Business Conference from a lot of my friends, as well as my director here.
New conference, old connections. I did ABC's golf outing and played with one of my old colleagues from Georgia State University and our vendors from Woodway. It was a good opportunity for us to network and learn about what they have coming out so we could push our facility forward.
Learning to be a leader. My goal at ABC was to I attend as many leadership sessions as I possibly could. When you cross over from an assistant director to the associate director role, a lot of your job is dictated by your leadership style. It becomes less about what you're doing out in the facility day to day and more about how you're getting everyone to work together and interact nicely. That's key to me.
Finding new ideas on the expo floor. Life Fitness had just released Synergy Blue Sky. We have SYNRGY 360XL, an indoor jungle gym type of thing. We've had really good success programming that equipment. ABC was the first time I saw the outdoor version. We have a green roof, and we're looking at potentially buying that down the road and programming fitness classes on our roof.
What excites him about ABC this year. I'm looking forward to the keynote, Shawn Achor from Harvard. I've seen one of his TED Talks and am excited to see him. Also, the LSU tour — if we don't get on the tour, we might just ride up ourselves and take a look at the facility. We love to see other facilities around the country and how they're doing things. That's kind of an industry standard. We love to have other people come to our own facility and ask, "How did you guys do that?"
---
This article originally appeared in the November | December 2015 issue of Athletic Business with the title "Show and Tell"