Athletic Business would like to introduce our new executive editor, Andy Berg. Andy has spent the past 10 years working in B2B publishing. In 2008, he began as an associate editor for Advantage Business Media's Wireless Week brand, which covers the wireless communications industry. From there, Andy took over the executive editor position at Wireless Week and CED Magazine. In 2015, Andy moved within Advantage Business Media to become editorial director for the company's manufacturing vertical, which is comprised of seven brands positioned across the manufacturing sector. We sat down with Andy to find out a little bit more about him and what he's most excited about as he starts a new chapter with AB.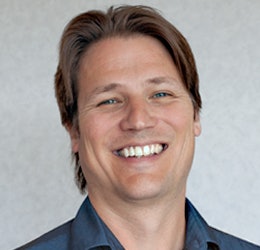 What are you most excited about in your new role at AB?
I'm really excited to work with the amazing team already in place here at AB. There's a wealth of knowledge and talent in this office. I think we're poised to take AB to the next level, which is saying something given AB's history of excellence and prominence in the industry. The print publication is so impressive, and I think there's an opportunity going forward to really engage our readers with some of the new ways they'll be seeing our content presented on the digital side.
Tell our readers a few things they should know about you.
As a part-time writer of fiction, story is really important to me. I've spent the past 10 years in B2B publishing, covering a range of industries, from wireless communications to general manufacturing. Whether you're talking about something as seemingly dry as wireless spectrum policy or the sterilizing of surgical instruments there's almost always an interesting story to be told. As much as we promise our readers an informed look at the industry, I think we also owe them an interesting story. Luckily the two go hand in hand, and we'll always strive to offer both.
How will you be involved with the AB Show?
There is so much opportunity to expand on the role of editorial at AB Show. The show itself is already established as the gathering for professionals across the industry. I think there are a lot of attendees that don't realize they should be reading AB, and likewise quite a few readers who don't realize they should be in Orlando in November for the show. Over the next few months, and as we prepare for AB Show 2017, we're really going to focus on ways that the AB editorial staff can bring the excitement of AB Show to our readers in innovative ways. Stay tuned!
Where did you attend college and what did you study?
I actually started out thinking I would go into the visual arts and did a year at the Atlanta College of Art and Design. Later I realized writing was my true love and ended up completing my undergrad at Southern Oregon University in Ashland, Ore. After that I completed an MFA in Creative Writing from Goddard College in Plainfield, Vt.
Favorite sports venue and why?
The East Madison Little League fields where my son played from age five until he moved on to high school. The facility itself isn't much to look at — three diamonds and a centrally located concessions — but it was a good community of people that loved baseball and loved the kids. It's probably a cliche, but it truly is something to see a game played purely for the joy of it.
What's your best memory of attending a sporting event?
Funny, my best memory of a sporting event was one that I didn't actually attend. I road tripped with a couple of good friends down to New Orleans in '97 when the Packers played the Patriots in Super Bowl XXXI. We didn't have tickets to the game, so we watched it in the hotel lobby and then went down to Bourbon Street after the Packers won. Nothing like The Big Easy filled with Cheeseheads.
Do you have a fitness routine that you'd be willing to share? A favorite piece of exercise equipment?
My wife works for a bike manufacturer and gets an amazing employee discount, and so I have a really nice bike that I otherwise probably couldn't afford. I ride it all the time and usually ride to work. One of my favorite things to do is to ride around Lake Monona here in Madison. It's a beautiful ride and only takes about an hour, which is enough to work up a sweat.
Favorite free-time activity/hobby?
Reading, writing fiction, hiking, camping, spending time with my wife and kids and our big brown dog.
Did you play any sports growing up?
Baseball.
Last book you read?
I recently re-read Robert Pirsig's Zen and the Art of Motorcycle Maintenance. It had probably been 20 years since I'd last read it. Amazing how much of it was over my head back then. Reading it as an adult with two kids it was just a totally different book for me. I'll read it again in another 10 years and likely get something entirely new out of it.
Wisconsin beer or food of choice?
Friday fish fry, please, with an ice cold Luminous from Next Door Brewing on Atwood Avenue near my house.
Hear more from Andy in our short video introduction!