There's no denying that technology is transforming the way we perform many day-to-day tasks. To learn more about how high tech is transforming the fitness industry, I sat down with AB Show 2017 speaker Rachel Koretsky, CEO and Founder of upace, a mobile platform designed specifically for fitness, recreation and community centers.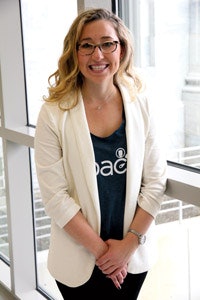 According to Koretsky, integrating technology into your center will allow you to:
1. Increase member satisfaction and engagement
You need to communicate with your members where and how they communicate best, which is transitioning to mobile devices, especially for millennials. Says Koretsky, "Allowing your members to access important information and be able to sign up for classes and reserve time on equipment — all in one location — will give them a positive and convenient experience before even stepping foot in your gym," which goes hand in hand with the next benefit.

2. Increase member retention
It goes without saying that when members are happy, they're more likely to stick around. In addition to having a positive web experience, technology available for fitness centers today allows members the ability to sync group exercise classes and workout times directly to their mobile calendar, "making it easy for them to commit and make exercise a habit," Koretsky says. And once coming to your fitness center is a habit, the likelihood that they'll continue their membership skyrockets. (Learn more about the power of habits at abshow.com.)

3. Make informed decisions on day-to-day operations
With technology comes easy access to data, including equipment usage, popular times, class attendance and more. "There has been increased demand from fitness center owners for technology that reports on operations data that was hard to gather before," according to Koretsky. Now, there is technology available that reports on all facility operations at the tips of your fingers to help you make important business decisions and to provide the optimal gym experience for your members.
Koretsky says that integrating technology into your fitness center is part of a long-term strategy. "You have to figure out what will keep your members engaged and wanting to continue using your fitness center," she says. "You have to determine your goals for the technology and find the right technology platform to help you achieve those goals."
Join Koretsky at the Innovation Station at AB Show 2017 for her educational session, "Set Your Pace: How Technology Can Influence Your Center." You'll walk away with a practical understanding of how technology can boost member retention and satisfaction, empower data-driven decision-making, enable real-time member communications and more. Learn more and register for AB Show 2017 at www.abshow.com.
---
This article originally appeared in the October 2017 issue of Athletic Business with the title "Elevate your fitness center with technology." Athletic Business is a free magazine for professionals in the athletic, fitness and recreation industry. Click here to subscribe.