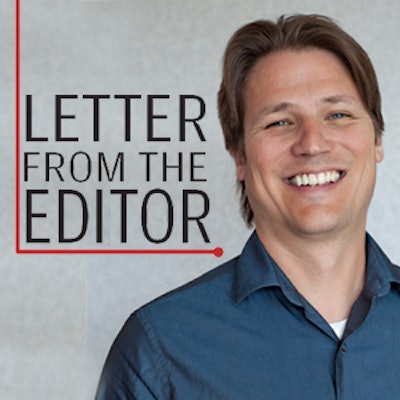 As an editor, it's easy to get wrapped up in the details of the topics we write about — facility design, college rec programming, complicated legal issues, to name just a few — and lose perspective on what the fitness, athletics and recreation business is really about. My first IHRSA conference in March brought that big picture back into focus.
While on the show floor in San Diego — a frenetic atmosphere by any standard — I saw a man do an 8-minute plank, pedaled my way through a virtual world on a stationary bike, and was amazed by a woman who must have spent five hours a day working out on an elliptical machine as part of a demonstration. It's an impressive scene at IHRSA and one that speaks volumes about the kind of energy and enthusiasm our friends and colleagues bring to their work.
Another big-picture moment was the turnout of conference attendees and exhibitors at the annual BASH for Augie's Quest, a dinner and silent auction that raises money toward a cure for ALS. Augie Nieto's is a heartbreaking and inspiring story — a man whose inventions revolutionized the fitness world was ironically betrayed by his own body and diagnosed with ALS in 2005. A testament to the type of people who make up this industry, Augie never gave up. He and wife Lynne have dedicated their lives to beating an awful disease, and this year's BASH raised a record $6 million toward the fight against ALS.
As I saw on display in San Diego, this industry — its products, facilities and people — is at its core dedicated to improving bodies and minds. For the editorial team at Athletic Business, that means every issue of our magazine is filled with meaningful stories about how our readers are changing lives. Whether we're writing about high school weight rooms (page 34) facility cleanliness (48) or aquatic components (52), the common denominator is you, our readers, and the work you do every day to support healthier lifestyles and ultimately stronger communities
---
This article originally appeared in the April 2018 issue of Athletic Business with the title "Big Picture." Athletic Business is a free magazine for professionals in the athletic, fitness and recreation industry. Click here to subscribe.