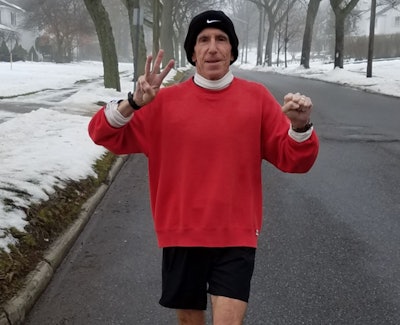 Dr. Bruce Sherman, president of GymValet, will celebrate a remarkable anniversary today: As of today, Sherman has ran at least three miles every day for 40 years.

That's 14,600 consecutive days of running at least three miles. All told, Sherman says he's covered more than 100,000 miles on foot, enough to run around the world four times.

According to runeverday.com, a site that records running streaks, Sherman's streak ranks 19th in the United States and 20th worldwide.

"This is my life," Sherman, an exercise physiologist, told Athletic Business last week. "I teach it, I preach it, and I take pride in my health and wellness."

In fact, Sherman says he has not gained a single pound during the streak, checking in around the same weight as when he was in his 20s.

That doesn't mean it was always easy. There have been broken bones and minor injuries, but two memorable incidents stand out: When hiking in Peru to visit Machu Picchu in 2000, Sherman and his wife were camping at an elevation of 15,000 feet. Running several miles at such elevation would not be easy.

"I set out and after a few strides it wasn't so bad," he recalls. "I ended up doing five miles that day." All that before hiking for eight hours.

When he returned from that trip, another threat to the streak emerged. Sherman had come down with a severe stomach bug. Very ill, he managed to run about 4.5 miles before heading to the emergency room.

As for what's next?

"I have no plans to stop," he said.

As a longtime partner of Athletic Business, our staff commends Sherman on this incredible feat. If you see him at the AB Show this fall, stop by and congratulate him. Chances are, he'll have already gotten his run in that day too.