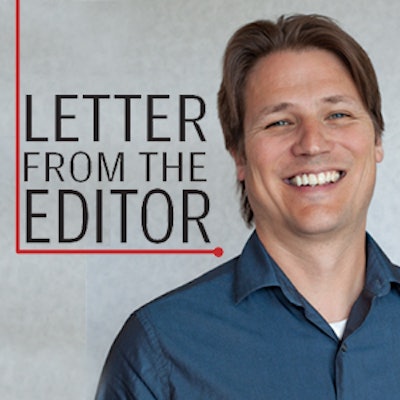 This issue renders an interesting dichotomy. On the one hand, we're going to terrify the Luddites among our readership, as we address the many ways that technology is fundamentally changing the athletics, fitness and recreation industries. From our cover story, which details how satellite-guided robots are increasingly tasked with painting field lines, to an article about the software and apps that are revolutionizing tournament hosting, the advancement of technology is very real and will continue as long as there are smart, inquisitive people looking to solve problems.
On the other hand, the powerful human element present in our industries is equally undeniable. Clubs, campuses and communities across the country are realizing health and fitness are dependent on myriad factors, and wellness is a holistic measure that is impacted by an individual's physical, mental and emotional states. In this issue we also look at the good old-fashioned benefits of exercising outdoors — sunshine, fresh air, the smell of the flowers and trees — as well as the ways that colleges and universities are pushing integrated wellness to a broader campus population.
While we may not always understand the technology that's impacting our work in ways that we likely never could have anticipated, rest assured that we human beings remain central to the work at hand. Whether you're a rec director, a high school coach, a club owner or spin instructor, the people you serve — customers, students, athletes — will always require that smile at the door, that handshake before they leave and that word of encouragement when one more rep just doesn't seem possible.
We hope Athletic Business gives you peace of mind as you navigate an increasingly complex world of innovation. After all, once you figure out that new tournament hosting software or robotic line painter, you might just have saved enough time to have coffee with a colleague or to get outside for an afternoon run.
---
This article originally appeared in the April 2018 issue of Athletic Business with the title "Human element." Athletic Business is a free magazine for professionals in the athletic, fitness and recreation industry. Click here to subscribe.