Excitement and energy from thousands of athletics, fitness, recreation and military professionals could be felt throughout the 160,000-square-foot exhibit hall and in each of the more than 125 educational sessions at the 38th annual AB Show. The expo hall and conference are specifically designed to give attendees the tools they need to outfit and manage their programs and facilities. The show also aims to facilitate meaningful industry relationships and offer solutions to the unique challenges our attendees face every day.
Athletic Business would like to thank our co-locating partners, the Medical Fitness Association (MFA), the National Alliance for Youth Sports (NAYS) and Faith & Fitness magazine, as well as our attendees and exhibitors for joining us for another great show in Orlando this past November. Here's a look at some of the highlights.
PRECONFERENCE TOURS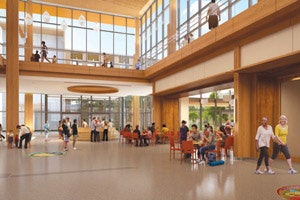 Crosby Wellness Center at the Center for Health & Wellbeing
A collaboration between the Winter Park Health Foundation and AdventHealth, the 80,000-square-foot Center for Health & Wellbeing is dedicated to strengthening the body, mind and spirit. Originally built in 1989, the newly renovated 30,000-square-foot Crosby Wellness Center features two pools, weight and cardio equipment, locker rooms with saunas, group exercise studios, an indoor walking track and a children's wellness and childcare area. The Center also offers a full range of health services, including primary care, specialty health services, an outpatient lab and a pharmacy. Tour attendees were intrigued by the unique concept that parts of the facility are open to the public, while other parts are membership-based.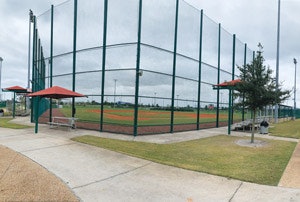 Boombah Sports Complex at Seminole County
A 102-acre facility with 15 lighted, tournament-quality fields for softball, baseball, soccer, football and lacrosse, this complex hosts a multitude of tournaments every year. It also features a large central pavilion for groups, as well as walking paths, batting cages, bullpens adjacent to athletic field dugouts, spectator bleachers with a shade cover at each field, three centrally located concessions/hospitality buildings, a playground, and an administration building with offices, meeting space and restrooms. Tour attendees also took advantage of a question-and-answer session with facility administrators to learn more about their operations, facility management, funding, community partnerships and more.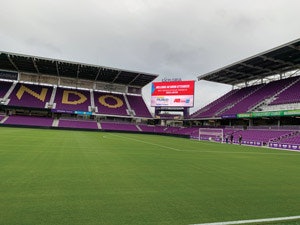 Exploria Stadium
Home to MLS team Orlando City SC and NWSL's Orlando Pride, the 25,500-capacity stadium was designed with the intention of creating the loudest and most intimidating atmosphere in Major League Soccer. It also features North America's only safe-standing supporters' section, a low-slanted roofline to amplify crowd noise, and spectacular views from street level (thanks to its field being sunk eight feet below grade). Fans can also take advantage of the 10,000-square-foot fan plaza and an 8,400-square-foot indoor club. Plus, the stadium's community connection can be felt within its details — in particular, the inclusion of the #OrlandoStrong seating area, featuring a rainbow of seat colors in honor of the 49 victims of the 2016 Pulse nightclub shooting.
FIRST-TIMERS' RECEPTION

New-to-AB Show full-conference attendees gathered for the First-Timers' Reception, a networking event that gave newcomers a chance to ask questions, mingle with other first-timers and set the tempo for a successful event. We were excited to be filled to the brim with eager attendees who joined us for some tasty refreshments, a quick meet and greet with Athletic Business staff, exciting games of cornhole and giant Jenga, and fun prizes involving Orlando hot spots.
THE EXPO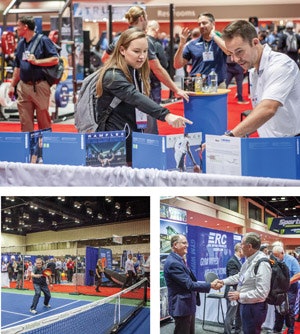 The expo hall at AB Show 2019 offered a robust trade show experience with a host of new show floor features, partner pavilions and access to a variety of exhibitors offering everything from the most innovative new products to the basics needed for day-to-day operations.
New show floor features kicked the expo hall up a notch in 2019. The Business Hub (powered by the Fitness Business podcast) gave attendees a quick overview of best practices in Group X training, equipment maintenance, industry trends and technology adoption. Plus, the Tech Talks Pavilion allowed attendees to see 20-minute demos on the latest technology and software offerings available for user management, facility operations and more. Many attendees also enjoyed some time on the USAPA pickleball court, allowing them to appreciate why it's the fastest-growing sport in the U.S.
The Demo Stage gave attendees the chance to experience new trends in programming right on the expo floor. This area was a hot spot for programming managers looking to add new classes to their lineup, and we enjoyed testing out a wide variety of programs with our attendees.
For those looking for a more intimate setting to test out equipment, the Early-Morning Workout provided just that. Hundreds of attendees hit the expo hall bright and early to meet with manufacturers and trainers for one-on-one or group workouts and challenges. This gave attendees the perfect opportunity to experience the equipment for themselves and understand how a new piece of equipment could impact their facility.
WORKSHOPS & SESSIONS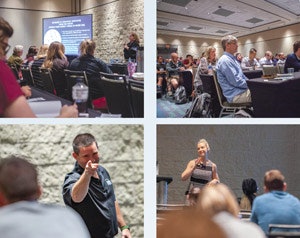 While attendees span the athletics, fitness and recreation industries, everyone shares similar challenges and can benefit from diverse perspectives, which is exactly what AB's educational program provides. Full-conference attendees were able to take advantage of more than 125 educational sessions taught by industry leaders — on topics ranging from leadership and facility design to social media and programming — giving them actionable insights they could implement right away.
Back for its second year, AB Show hosted a special military fitness training seminar that gave military professionals the opportunity to learn from the experts, try out the latest fitness tests and learn how to maximize the efficiency of their programs and facilities.
Plus, in cooperation with IHRSA, AB Show 2019 hosted the Women's Leadership Summit that was open to all female IHRSA members and prospects. Special preconference workshops provided more hands-on education in leadership, customer service, functional aging and facility design.
KEYNOTES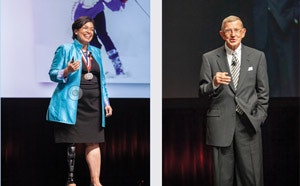 Thursday morning kicked off with an endearing keynote by Lou Holtz, legendary football coach, author and broadcaster. In his "Game Plan for Success" presentation, Holtz shared his three keys to being successful through engaging, relatable and inspiring stories from his own experience. Day two of the expo featured a second keynote by Bonnie St. John, Paralympic ski medalist, Fortune 500 business consultant, Rhodes Scholar, former White House official and best-selling author. Micro-resilience was the focus of St. John's "Normal Is Overrated — Aim Higher!" keynote, in which she shared the five key factors for bouncing back from setbacks and living a meaningful life.
FACILITIES OF MERIT®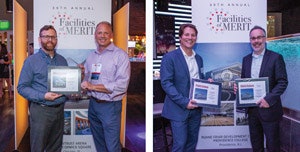 The 2019 Facilities of Merit panel gave full-conference attendees the chance to hear from the architects and project managers behind this year's winning facilities. Following the discussion, the Facilities of Merit Reception took place at the nightclub 3NINE at Rosen Plaza. Attendees and staff enjoyed light refreshments in a fun atmosphere, where they got to recognize and honor the outstanding capital improvement projects that won the prestigious Facilities of Merit award.
LOOKING AHEAD

We are already looking forward to AB Show 2020 in Baltimore, Md., Nov. 3-6. Newcomers and veterans alike who are looking to positively impact their facilities, programs and career are invited to join us! Registration will open in February at abshow.com.
---
This article originally appeared in the January | February 2020 issue of Athletic Business with the title "Elevating Facilities. Enriching Programs. Empowering Leaders." Athletic Business is a free magazine for professionals in the athletic, fitness and recreation industry. Click here to subscribe.