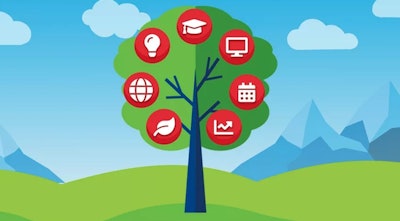 NIRSA has a great lineup of learning events that will help you expand your knowledge, apply new skills, create fun memories, and grow your professional network! Attendees leave our events with new skills and knowledge, fun memories, and new friends and colleagues! There's a lot planned in 2020, so get ready to mark your calendars!
NIRSA School for Mid-level Professionals
This year's NIRSA School will take place May 17–21 in sunny Tampa, Florida. Join mid-level peers for a deep-dive program facilitated by senior administrators—all while cultivating a lifelong camaraderie with fellow attendees. The NIRSA School for Mid-Level Professionals hones the skill sets and mindset to influence positive change on your organization and team. Space is very limited, so register soon!
Intramural & Sport Club Institute
Bringing together those who oversee intramural and sport club programming for the first time, NIRSA is excited about this re-imagined event! This event will take place July 7–9 in beautiful Burlington, Vermont. Registration is open now. For best rates, register by May 27.
NIRSA Recreation Facilities Institute, presented by Mondo
This event is produced in partnership with the Athletic Business Show from November 3–6 in Baltimore, Maryland. NIRSA is excited for this new partnership! It will offer not only top-notch educational sessions and facility tours, but fabulous networking opportunities and a tradeshow featuring 250+ exhibiting companies! You'll learn from experts in the field while connecting with exhibitors who offer state-of-the-art equipment, groundbreaking technology, and thousands of products and services. Registration opens February 16.
Collegiate Marketing Institute
This event gets more popular each year it is offered! So if you have marketing responsibilities, this is the event for you! This event takes place November 11–13 in Pittsburgh, Pennsylvania. In partnership with ACUI, this event brings campus recreation, college union, and student activities professionals to share best practices and trends in campus marketing. Learn how to tackle the challenges of being a successful marketing professional in today's competitive higher education industry. We'll start accepting proposals in April and registration will open in July. Stay tuned to the website for updates!
"Transformational" is a word that attendees often use after attending this annual event. This event takes place December 9–12 in Palm Desert, California. More information will be posted in early summer. Stay tuned to the website for updates!
Emerging Recreational Sports Leaders Conference
This event will be hosted by Delaware State University. With educational programming, opportunities for mentorship, and a platform for career networking, this unique conference empowers young minority students with the skills and knowledge that lay the foundation to building meaningful careers in the field of collegiate recreation. The ERSL Conference encourages diversity in our association in an effort to better reflect the populations and demographics that NIRSA members serve. Registration is open!
Regional education events
Fall brings football, apple picking, and a lot of other festivities. But this season also brings learning opportunities closer to home! Regional conferences are a great way to connect with your colleagues in your region without having to undergo extensive travel.
From professional development events to sports events, stay up to date on all the 2020 live events on the NIRSA calendar. We hope you choose to GROW with NIRSA in 2020!
---
This article was re-published with permission from our partners at NIRSA — Leaders in Collegiate Recreation. Read the original here.