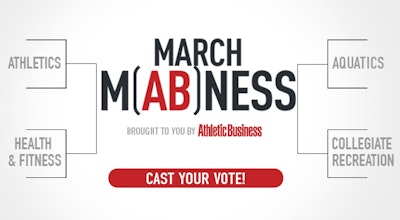 Despite the cancelations of NCAA tournament events, Athletic Business hopes you'll join us for March M(ab)ness — three weeks of bracket-style voting to help us tackle industry related challenges.
Click here begin casting your votes for the final round!
Here's how it works: - The bracket is broken down into four "fields": Athletics, Collegiate Recreation, Aquatics, and Health & Fitness
- Each region will start with eight unique challenges faced by professionals within that specific field
- If a region doesn't relate to you, please feel free to skip it
- Vote for the challenges you feel are the biggest or most important one you face on a regular basis
- After 3 rounds, we'll have the "Final Four" consisting of the top challenge from each field
- Once the top four are chosen, our editorial team will provide solution-focused content addressing each industry-related challenge
Ready to get started? Click here to begin voting for the regional champions!