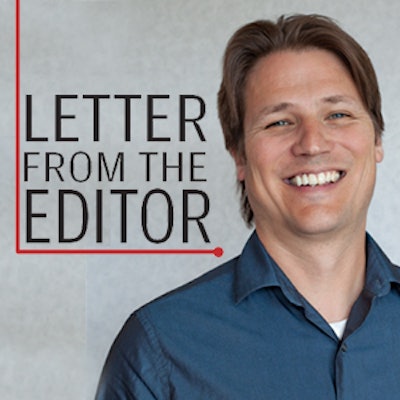 Most of my work correspondence over the past months — whether sent or received — begins in kind with "I hope you're well" and ends with "stay safe." There's a welcome tenderness in those sentiments that I think find their root in our extraordinary shared experience of late. It goes without saying that few in the athletics, fitness and recreation industries were able to avoid unprecedented change and upheaval this year.
Nevertheless, we've arrived at the last issue of 2020, and I want to recognize the resiliency demonstrated by everyone here at AB, as well as by our partners, colleagues and friends across the industry. We shouldn't be ashamed to admit that the uncertainties that have emerged as a result of the COVID-19 pandemic have been unsettling if not scary, and in some cases tragic. That's the current reality of the situation, but as Socrates said, "The secret of change is to focus all of your energy, not on fighting the old, but on building the new."
Every issue we've assembled since lockdowns began back in March has for me only reinforced that this is an industry intent on ensuring 2021 is a year of recovery, growth and innovation. There's something about hardship that seems to clarify our priorities. The new we build together going forward may in many ways resemble the old, but perhaps the way we go about our work will be imbued with some of those things we've been reminded of this year — namely the importance of empathy, compassion and collaboration.
Another beloved philosopher, Yogi Berra, once said, "If you don't know where you're going, you'll end up someplace else." Take heart that if 2020 has proven one thing, it's that we are working in an industry of exceptional people who know where they're going but can also come together and excel when they end up someplace else.
---
This article originally appeared in the November|December 2020 issue of Athletic Business with the title "An Extraordinary Year." Athletic Business is a free magazine for professionals in the athletic, fitness and recreation industry. Click here to subscribe.