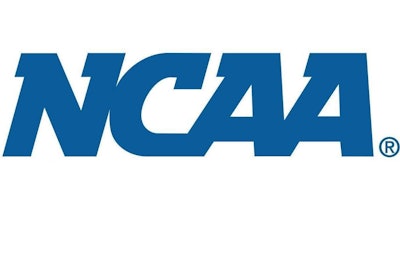 The nine finalists — including three from each NCAA division — demonstrated excellence in academics, athletics, community service and leadership throughout their collegiate careers.
Finalists were selected from the Top 30 Woman of the Year honorees, made up of 10 women from each division. In 2021, schools nominated 535 graduating female student-athletes for this prestigious award.
At 7:30 p.m. Eastern time Tuesday, Nov. 9, the finalists and Top 30 honorees will be celebrated and the 2021 NCAA Woman of the Year will be announced during a virtual awards ceremony. The show will be streamed on the NCAA Twitter account and ncaa.org/woty.
Following are biographies of the Woman of the Year finalists, including excerpts from their personal statements in their nomination materials:
MIKAYLA BISIGNANI
School:
Johns Hopkins University
Conference:
Independent Division III
Sports:
Swimming and diving, outdoor track and field
Major:
Molecular and cellular biology; psychology
Hometown:
Latrobe, Pennsylvania
"As a collegiate student-athlete, I was awarded several honors. However, none of these awards comprise the mosaic of who I am. While my success could be measured in times or distances, the numbers on the board were not as defining as the lessons I learned through hard training. I learned how to set high goals yet remain process-oriented and view failure as a chance to improve by learning new strategies."
Mikayla Bisignani was a two-time College Swimming and Diving Coaches Association of America All-American, winning first-team honors in 2019. She also helped her team to a program-best third-place finish at the 2019 outdoor track and field championships, placing 13th in discus. In 2021, Johns Hopkins awarded her the Dr. William Howard Award for scholarship and athletic achievement and the Robert H. Scott Award for athletics, scholarship and extracurricular participation. The CoSIDA 2021 Division III At-Large Academic All-America Team Member of the Year is the first three-time first-team selection from Johns Hopkins. In 2019, Bisignani received an Elite 90 Award, presented to the student-athlete with the highest grade-point average competing at an NCAA championship finals site. She was a volunteer research assistant, helping to identify new biomarkers for improved multiple sclerosis prognosis, inspired by her time as a volunteer caregiver with the Johns Hopkins Medical Institute. A three-year member of the campus Student-Athlete Advisory Committee, she represented SAAC on the Women's Gender Resources Leadership Board.
ANNA COCKRELL
School:
University of Southern California
Conference:
Pac-12 Conference Division I
Sports:
Indoor track and field, outdoor track and field
Major:
Communication
Hometown:
Charlotte, North Carolina
"The knowledge that I changed USC athletics and spurred others to get mental health help reminds me that I am powerful and achieved outside athletics. I will continue to positively impact the world by fighting for just causes and inspiring others to acknowledge their struggles and seek help."
Five-time individual national champion Anna Cockrell became the second woman ever to win both the 100- and 400-meter hurdles at the NCAA Division I Outdoor Track and Field Championships when the Trojans won the 2021 national title. She also was part of the 2018 national title-winning team. The 13-time U.S. Track & Field and Cross Country Coaches Association first-team All-American won the 2021 Honda Sports Award for track and field and was a semifinalist for the 2021 Bowerman Award. A 2020 Olympian, Cockrell also won the silver medal in the 400 hurdles at the 2019 Pan American Games. The two-time CoSIDA Academic All-America Women's Team Member of the Year for track and field was also the 2021 USTFCCCA Scholar Track Athlete of the Year and 2021 Pac-12 Scholar Athlete of the Year for track. A four-time team captain, Cockrell was co-founder and co-president of the United Black Student-Athletes Association, which hosted virtual town halls on racism and advocated for more equitable hiring and diverse representation. She also served on Southern California's Racial Equity, Diversity, and Inclusion Task Force. Cockrell participated in several national panels on athlete activism and volunteered for two political campaigns.
KENDALL CORNICK
School: Augustana University (South Dakota) Conference: Northern Sun Intercollegiate Conference Division II Sport: Softball Major: Biology; psychology, with a concentration in neuroscience Hometown: Mason City, Iowa
"Behind every empowered woman is a team of empowered women who helped get her to that point, and my gratitude lies in many strong females who have guided me thus far. As I look ahead, an empowered woman will indeed empower more women, but I will also strive to empower underserved communities and underrepresented patients as I fight for a more humanistic approach to medicine."
Outfielder Kendall Cornick helped her team win the 2019 Division II Softball Championship. In 2021, she was named first-team All-American by the National Fastpitch Coaches Association and the Division II Conference Commissioners Association. A finalist for the 2021 Schutt Sports/NFCA Division II Player of the Year, she was the 2021 D2 CCA Central Region Player of the Year and 2021 conference Player of the Year. She had 34 steals in 2021, ranking second nationally, and set a school record for RBIs in a single game (7). The 2021 CoSIDA Division II Academic All-America Team Member of the Year for softball also earned second-team honors in 2020. She received the 2020-21 D2 CCA Scholar-Athlete of the Year Award and the Northern Sun Willis R. Kelly Scholar-Athlete Award in 2021. A 2021 NCAA Postgraduate Scholarship recipient, she analyzed drug targets for medulloblastoma, a common form of childhood brain cancer, as a student research fellow. She also served as director of community outreach for Augustana's Kidney Disease Screening and Awareness Program, providing free kidney health screenings. Cornick was a surgical services volunteer and pediatric companion at Sanford Hospital, as well as a surgical assistant at Avera McKennan Hospital.
STEFANI DESCHNER
School: University of Notre Dame Conference: Atlantic Coast Conference Division I Sport: Fencing Major: Pre-professional studies; theology Hometown: Versailles, Kentucky
"As I enter medical school, I am grateful to have had the opportunity to learn true compassion, joy in the simplest things, and resilience despite the myriad of obstacles that we face. I have become a compassionate leader, a resilient athlete, and a determined student. As a result, I will combine these qualities to become a thoughtful physician, making a difference through service."
Stefani Deschner was the 2021 foil fencing national champion and led Notre Dame to team national titles in 2021 and 2018. The 2020 and 2021 U.S. Fencing Coaches Association first-team All-American also won an ACC individual title in 2020 and helped her team win conference titles in 2019 and 2020. Deschner has represented the United States in international competition, first competing on the Cadet World Fencing Championship team in 2014. She received second-team CoSIDA Academic All-America honors in 2021. A member of Phi Beta Kappa, Deschner earned an NCAA Postgraduate Scholarship and ACC Postgraduate Scholarship, and she was twice named ACC Fencing Scholar-Athlete of the Year. She was named the Notre Dame Club of St. Joseph Valley Rockne Student-Athlete Award winner for her academic achievements. Deschner worked with Fighting Irish Fight for Life, an organization pairing varsity athletic teams with pediatric oncology/hematology patients. An executive board member and three-year representative on her campus Student-Athlete Advisory Committee, Deschner supported development of mental health resources and organized mental health town halls. Deschner also served as a team coordinator with the Notre Dame Gender Relations Center to facilitate GreeNDot certification for her team in bystander intervention and create a safe, inclusive campus environment.
NAOMI HILL
School:
North Central College
Conference:
Independent Division III
Sport:
Triathlon
Major:
Psychology and behavioral neuroscience
Hometown:
Ankeny, Iowa
"I entered college with a narrow view of what my future could hold. Through a triathlon program that pushed me to ask difficult yet necessary questions about my life's trajectory, I achieved athletic success and envisioned a future for myself that is no longer bound by food and exercise. The experiences I was afforded through intercollegiate athletics will help me serve as a compassionate and empathetic professional in my postgraduate endeavors."
Triathlete Naomi Hill contributed to team victories at the USA Triathlon Collegiate Club Division III National Championship in 2017 and 2018, including fourth-place individual finishes at both. She was a Collegiate Triathlon Coaches Association All-Region selection in 2017 and 2018. An NCAA Postgraduate Scholarship recipient, the CTCA named her an Academic All-American in 2017, 2018 and 2021. The summa cum laude graduate presented research at the National Council for Undergraduate Research, Midwestern Psychological Association Conference and Rall Symposium for Undergraduate Research. Hill is a member of the Chi Alpha Sigma student-athlete honor society, Psi Chi psychology honor society and Nu Rho Psi neuroscience honor society. She volunteered with the National Association of Anorexia Nervosa and Associated Disorders, supervising calls, researching treatment plans and providing crisis support. She was a two-year member of the Student Governing Association, serving as president in 2019-20, and co-founded The Body Collective, a body-positive support group for student-athletes. Hill was vice president of the Fellowship of Christian Undergraduate Students at North Central.
ALISON JOHNSON
School:
Adelphi University
Conference:
Northeast-10 Conference Division II
Sport:
Lacrosse
Major:
Childhood education; sociology
Hometown:
Middle Island, New York
"Resilience and perseverance are attributes that I initially developed through athletics, yet I now channel them in my daily life to face a world after loss. I remain determined to exude strength and positivity despite the odds and be the best version of myself each day. … I learned my greatest life lessons as a Panther; thrilling wins and devastating losses, both athletic and personal, that will allow me to enter the classroom knowing that I can inspire courage and grit for years to come."
Attacker Alison Johnson was a three-time Intercollegiate Women's Lacrosse Coaches Association All-American, including first-team honors in 2017 and 2018, and she led her team to NCAA Division II national titles in 2017 and 2019. The 2018 Northeast-10 Player of the Year led Division II in assists per game in 2018 and was a first-team all-conference selection in 2017, 2018 and 2019. She is Adelphi's all-time leader in assists and ranks second in career points. The three-time CoSIDA Academic All-American earned first-team honors in 2020 and 2021. Johnson was the 2021 Northeast-10 Elite 24 Award Winner, an award presented at each conference championship finals site to the student-athlete with the highest cumulative grade-point average. In 2020 and 2021, she won the NE10 Sport Excellence Award for her outstanding athletic and academic accomplishments. A two-year team captain, in 2020 Johnson received the Division II Athletics Directors Association Academic Achievement Award. In 2021, she became the third Adelphi student-athlete to be named NE10 Woman of the Year. Johnson volunteered with the Friends of Jaclyn Foundation to support her team's adoptee, Lexi. She also helped Adelphi raise the second-highest total in the Headstrong Foundation's Game Hair Havoc campaign in her final season while overcoming personal adversity.
EKA JOSE
School:
Washington University in St. Louis
Conference:
University Athletic Association Division III
Sports:
Indoor track and field, outdoor track and field
Major:
Anthropology, with a concentration in global health and the environment; biology
Hometown:
Kansas City, Missouri
"My time as a student-athlete has been formative for my personal development. The experiences and lessons that I have learned are applicable far beyond the track and have undoubtedly transformed me into someone that is better prepared to take on life's challenges and positively impact my community."
Eka Jose was a national champion in the indoor and outdoor triple jump in 2019 and earned U.S. Track & Field and Cross Country Coaches Association Women's Division III Field Athlete of the Year for the 2019 indoor season. She was named Most Outstanding Field Performer at the 2019 NCAA Division III Outdoor Track and Field Championships. The five-time USTFCCCA All-American led WashU to second place at the 2019 indoor national championships and holds school records in the indoor and outdoor triple jump and the outdoor long jump. Jose earned first-team CoSIDA Academic All-America honors in 2019, 2020 and 2021. A two-time USTFCCCA Scholar Field Athlete of the Year, Jose was also presented the school's James E. McLeod Ralph Bunche Scholars Award for academic achievement twice. She earned a WashU biology summer undergraduate research fellowship in 2019. The two-year team captain was co-founder and co-president of the WashU Black Letterwinning Athletes Coalition. Jose worked with the Missouri Eating Disorders Association to educate and offer resources to over 100 middle and high school students.
AVERY SKINNER
School: University of Kentucky Conference: Southeastern Conference Division I Sport: Volleyball Major: Communication sciences and disorders Hometown: Katy, Texas
"Being a student-athlete is one of the most difficult but rewarding endeavors I have ever done. Not playing due to injuries, mental health, COVID-19, and so much more were not trials that I ever anticipated going through but are all seasons of life that have resulted in resiliency and growth. In these moments of struggle, my character was being built, and I can now use those hardships to be an encouragement for athletes who might be experiencing similar situations."
Avery Skinner was named first-team All-American by the American Volleyball Coaches Association in 2020-21 and helped Kentucky win a national championship the same year. In 2021, the all-SEC selection received the CATSPY Blue Heart Award, CATSPY Elite Performer Award and CATSPY Miss Wildcat Award, given to a female student-athlete who represents the heart and soul of Kentucky athletics and a commitment to excellence. Skinner played on the United States Collegiate National Team Europe Tour roster in 2018. She was a 2020-21 CoSIDA Academic All-America first-team selection for volleyball and a 2020 first-team Arthur Ashe Jr. Sports Scholar. Skinner completed over 250 hours of service while at Kentucky and was named to the 2020 and 2019 SEC Community Service Teams for volleyball. She also was a member of her campus Student-Athlete Advisory Committee and was inducted into the University of Kentucky Frank G. Ham Society of Character. Skinner was the new member and involvement chair for the Kentucky American Sign Language and Deaf Culture Club and volunteered for two years with the Kentucky Early Childhood Lab. In 2019, she participated in a Kentucky athletics mission trip to Ethiopia.
IRISA YE
School: University of the Sciences Conference: Central Atlantic Collegiate Conference Division II Sport: Basketball Major: Biomedical sciences Hometown: North Wales, Pennsylvania
"Challenges of balancing a difficult academic curriculum, rigorous athletic schedule, and battling injuries have all shaped me into the person I am today. With these experiences, I have learned to value each lesson that resulted and hope to pass on the same valuable lessons to others, especially through health care."
Guard Irisa Ye earned honorable mention Women's Basketball Coaches Association All-America honors in 2019 and 2020. Ye was the CACC Player of the Year in 2020, leading her team to a conference championship title in 2018 and three conference regular-season titles. The 2019 East Regional All-Tournament Team selection led her team to its first regional final in 2018. She ranks second in program history in field-goal percentage (52.9), third in 3-point percentage (40) and fourth in free-throw percentage (83.2). A 2020 and 2021 first-team CoSIDA Academic All-American for women's basketball, Ye was the 2021 CACC Female Scholar-Athlete of the Year and the 2020 Philadelphia Inquirer Academic All-Area Performer of the Year. She received the Division II Athletic Directors Association Academic Achievement Award three times. Ye was a four-year member of the Black Student Union and the Pilipino Cultural Association. She served as volunteer lead for the Hospital Elder Life Program, coordinating volunteers across four buildings and training new volunteers. As a student researcher in 2017-18, Ye performed guided research to isolate a novel virus from a soil sample and annotate the genome.