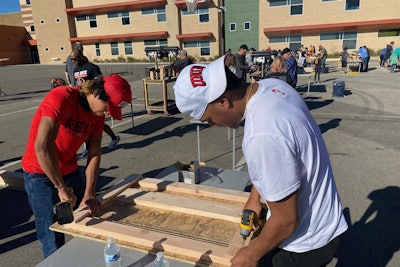 Courtesy of UNLV Athletics
University of Nevada-Las Vegas Athletics is gearing up to host a charity bed-building event to benefit area youth.
UNLV Athletics said the Bed Build Day on April 30 in the parking lot of the Thomas & Mack Center is in partnership with nonprofit Sleep in Heavenly Peace to help Las Vegas youth that are in need of a comfortable place to sleep.
"Our collective efforts will greatly benefit children sleeping on the floor in our community," said Chris McDowell, Sleep in Heavenly Peace chapter co-president.
The UNLV Rebels also invited the public to help meet their goal to build 100 beds. The volunteer event is open to the first 400 individuals.
Organizers are also working to raise $25,000 to pay for the materials to build the beds, UNLV said.
]The Bed Build Day event will take place from 9 a.m.-1 p.m, and UNLV said the group is aiming to set the organization's local chapter one-day record.
"All children deserve a safe, comfortable place to lay their heads so we are inviting all to come out on April 30 to volunteer, as we make a difference by building 100 beds for kids in need," UNLV director of athletics Erick Harper said.
Anyone interested in helping with Bed Build Day can find more information at UNLVRebels.com/BedBuild.
Donations are tax-deductible and excess funds will be donated to the Las Vegas chapter of Sleep In Heavenly Peace for additional supplies.
UNLV Athletics said community partners for the project are also needed, and anyone interested should contact Jackie Perez at jackie.perez@unlv.edu.