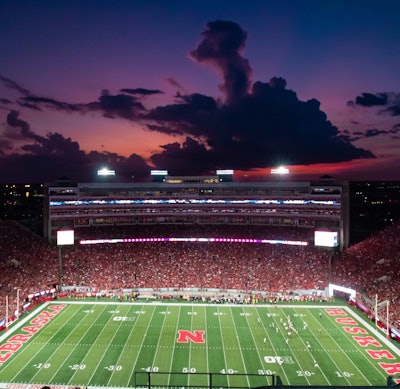 University of Nebraska athletic director Trev Alberts announced on his radio show Monday that fans will not be given balloons at Memorial Stadium to release upon the Huskers' first score during football games this season.
As reported by KOLN, the tradition dates back to the 1960s, but Alberts cited a shortage of helium as the reason for its suspension, but the balloons also become synthetic waste when they are inevitably grounded. "While we're still concerned about the environmental impact of the balloons, the reality is acquiring helium in today's day and age and some of the production of it is really challenged," Alberts said. "The helium that we are getting as a university we need to use for medical purposes."
HuskerOnline reported that the university administration asked the athletic department to save the helium they do get for the University of Nebraska Medical Center. ESPN reported that the helium shortage and supply-chain issues stem in part from sanctions against Russia, one of the world's top helium suppliers, following its invasion of Ukraine.
According to the EcoWatch website, "Balloons filled with helium — a finite and rapidly dwindling resource — travel hundreds or even thousands of miles. They land as litter on beaches, rivers, lakes, oceans, forests and other natural areas."
"While some manufacturers claim that natural latex balloons made from liquid rubber are biodegradable, they still take years to break down because they are mixed with plasticizers and other chemical additives that hinder the biodegradation process," the site continues. "Other latex balloons are synthetic, made from a petroleum derivative called neoprene – the same material used to make scuba diving wetsuits – and will remain in the environment indefinitely, breaking down into smaller and smaller pieces over time."
According to KOLN, Nebraska's student government unanimously voted in November 2020 to support a resolution that encouraged the stopping of balloon releases.
Moreover, an athletic department survey conducted in January found that the balloon release scored a 5.4 out of 7 satisfaction rating in the Gameday Experience category. That was toward the bottom of a list that included other traditions such as the Tunnel Walk, military recognitions, the third quarter lights show, the spirit squad, flyovers, the Cornhusker Marching Band, and mascots. It ranked slightly higher than "The Cornhuskers Song."
Alberts hopes to replace the balloon release with a new tradition, though he didn't say what exactly. "We're going to work with [senior associate AD] Brandon Meier and our marketing department to try to come up with something whether its digitally or something to designate and keep it alive," Alberts said, as reported by HuskerNation. "We're working really hard for something for the future."