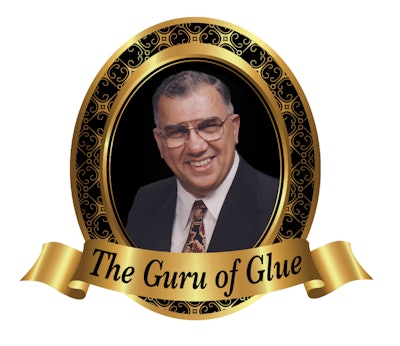 Norris Legue called himself The Guru of Glue, and it was a nickname that, well, stuck.
The moniker projected a cheeky confidence — the special combination of New Orleans roots and New Jersey moxie. His hair looked like an ad for Brylcreem, and his pants were held up by both belt and suspenders. (More on that later.)
He drove a succession of Jaguars the mile or so between his home in Fanwood and his Scotch Plains-based business, Synthetic Surfaces Inc., and — insisting that he didn't want to stand out too much on the open road — he favored bright-red paint jobs on his Jags.
If the destination was an industry trade show, he could often be spotted strategically mingling among business associates with a napkin-wrapped Budweiser longneck in hand, or perhaps a rocks glass filled with Johnnie Walker Black Label. To share a drink with Norris was to feel like you had known him forever. The industry war stories were seemingly endless, and if he told one you had already heard, it only got funnier with age. Heck, chances are you asked him to repeat a favorite yarn from the last time you saw him. His high-pitched laugh was the same with each retelling, and it was infectious.
Such a fixture was Norris Legue at AB Show that we had a nameplate made to mark his place at the lobby bar of our headquarters hotel. So consistent was his support for Athletic Business magazine that staff members struggled to think of an issue that didn't feature an advertisement for his NORDOT adhesives — the brand being a combination of his name and that of longtime wife Dotty.
He was unapologetically old school. His preferred modality for business transactions was the facsimile, and he was meticulous about how his information was presented in our publication. His display ads were wordy and quirky by design, sometimes depicting Norris in a cartoonish tuxedo. He sold product by emphasizing a "belt-and-suspenders" approach to affixing synthetic turf to its underlayments. Why not use his glue on seaming tape as well as the field at large? Why not glue a pad down before gluing the turf to the pad? I once noted that this last suggestion ensured he sells twice as much glue. He smiled at me and said, "Do I look stupid to you?" And then came that high-pitched laugh again.
There was little laughter in our Madison office Tuesday upon receiving the news that Norris Legue had died in his sleep two days earlier. But it didn't take long for our smiles to return as we reminisced about the years of camaraderie. Months ago, several of us who had known Norris for 20 or more years ducked out of our office Christmas party to conference call him and not only wish him happy holidays, but also a happy 85th birthday. We're so happy we did.
Norris was a chemist who developed a formula for keeping things together in all kinds of weather. He applied it to our industry. He applied it to our little circle of storytellers. We lived half a continent apart, and might see him only a few times a year — and not at all in recent years — but the mutual respect maintained throughout our business relationship became a binding force worthy of his nickname. It became personal.
Goodbye, Guru. Save a place at the bar for us. We're sure you'll have some new stories to tell.