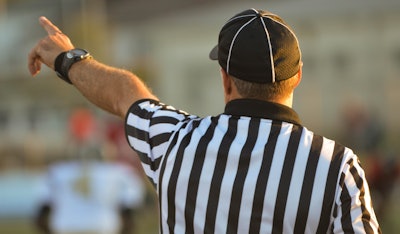 A Utah youth football referee who was punched over a call he made at a game last week is speaking out.
Nate Lewis, who has been refereeing youth football games for over a decade, told the local NBC affiliate his love of the game is really all about the love of the kids, saying that he's enjoyed "watching the kids celebrate successes and watching them grow and develop."
In recent years, however, Lewis said the passion on the sidelines has turned into tension.
"The emotion and the verbal attacks and the things they're saying are different. It's more personal, and it's focused more on what call was made or wasn't made. And I'm noticing that a lot more this year," he said.
Last Saturday, things came to a head, when Lewis was forced to eject a 15-year-old player from a Ute Conference game for unsportsmanlike behavior.
"I had mentioned to him that he needed to calm down and let the adult help him. And his behavior just continued to escalate," Lewis explained.
After the player said he had calmed down, the adult let the player go and approached Lewis.
"He took two steps and punched me," Lewis said, describing what happened next. "And then luckily, other adults were there and stepped in and were able to intervene and escorted him away from the field."
Lewis said the Ute Conference followed up and handled the incident well, but he's concerned about how the incident came about.
"It's more about the behavior that led to this and the adult interaction," he said. "As things were escalating, the adults could have stepped in and de-escalated it quicker. As officials, we were left out there on our own and there wasn't a lot of help."
The incident comes after one Ute Conference game last weekend descended into chaos when parents stormed field and a major brawl ensued.
Now, Lewis is asking parents to do their part and focus more on the game and less on their emotions surrounding the events on the field.
"The volatility in the parents and the coaches is where this starts," he said. "It's about coaches helping us control the sidelines, and parents realizing if you can't be there to support and cheer on your children, then there's something to be looked at there."