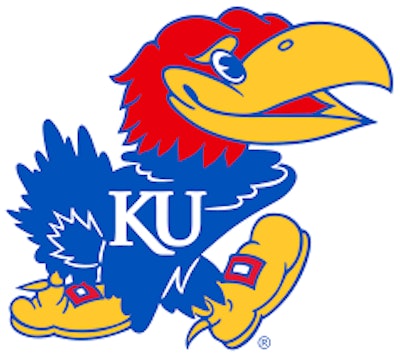 To chart a course through an ever-changing collegiate athletics universe, the University of Kansas has unveiled a strategic plan it calls "To the Stars."
The title is a play on the state motto, "Ad Astra per Aspera," which translates as "to the stars through difficulties."
The purpose statement of the strategic plan, released Wednesday and appearing the KU athletics website, is: "To profoundly enhance student-athletes' lives through an unrivaled commitment to academic enrichment, health and wellbeing, character development and the pursuit of competitive excellence.
"Together, we will unite all Jayhawks as we inspire our campus community, alumni, donors and fans."
The strategic plan is anchored by nine values critical to the University of Kansas and Kansas Athletics:
Integrity
Accountability
Commitment to Excellence
Resiliency
Optimism
Inclusivity
Authenticity
Competitiveness
Togetherness
The strategic plan was constructed by a 46-person committee who spent more than 14 months on the elaborate, comprehensive plan. More than 4,000 people were surveyed in the process in a commitment to diverse perspectives.
As reported by Matt Tait of KUSports.com, that collaboration produced a 33-page outline.
In a letter to Jayhawk fans, second-year KU athletic director Travis Goff said "countless" others were asked for input through surveys and conversations with department leaders. Goff plans to update the strategic plan as college athletics continues to evolve.
"This document is not fixed or final," Goff said. "It will serve as a compass that will evolve just as college athletics continues to."
For now, the strategic plan focuses on Kansas athletics' values, inclusive excellence, student-athlete wellness and experience, community engagement, philanthropy, financial sustainability and other critical areas for success.
According to Tait, the "To the Stars" strategy will prioritize culture building, capital projects, NIL opportunities, financial sustainability, student-athlete wellness and more, and it outlines specific goals for each of those areas.
Success in football and men's basketball will allow Kansas Athletics "to invest in all 16 of our athletic programs, thereby benefiting 500 student-athletes," said Goff, as reported by Tait.
Moreover, the "To the Stars" plan emphasizes upping recruiting efforts and setting clear expectations for each sport and coaching staff. Those expectations will be judged on both an annual basis and through a five-year plan that assesses program metrics, team priorities and areas of improvement, Tait reported.
Capital projects include already-announced upgrades to David Booth Kansas Memorial Stadium and Allen Fieldhouse, as well as future upgrades to KU football's Anderson Family Football Complex and baseball's Hoglund Ballpark, in an effort to create a facilities portfolio that is among the best in the Big 12 and top 25 in the country.