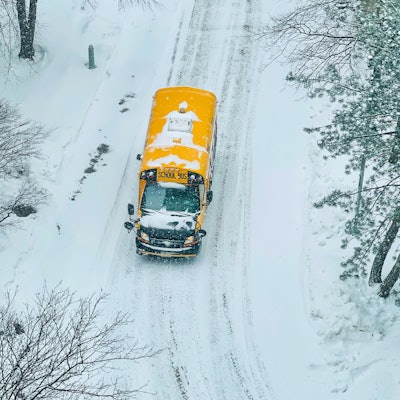 The Gregory (S.D.) High School boys' basketball team should be eight games into its schedule, but so far has only played three of those games.
As reported by Argus Leader in Sioux Falls, three separate snowstorms have forced cancelations and postponements of athletics events around the state. South Dakota High School Activities Association executive director Dan Swartos said that the organization doesn't have the exact figure for games postponed to date, but "it's a lot."
"ADs will work hard to reschedule as many as possible," Swartos said in a text to the Argus Leader. He noted the seed points formula doesn't "count against" a team that plays fewer games.
"Though in a similar position as many in the state, Gregory perhaps has felt the difficulties of postponements more than just about any basketball team has," wrote Michael McCreary of the Argus Leader. "Eight games into the Gorillas' schedule, they sit at just 2-1."
The team has missed anywhere from six to eight practices over that span as its region of the state was hit with 17.2 inches of snow — the highest single-day snowfall total ever — in what has already been a historic winter season.
Gregory's game Monday was one that was rescheduled from a previous postponement, and coach Jeff Determan feels that getting the four still postponed rescheduled is important — or, at least, all the conference and region games.
"We've played three 'first games of the year,'" Determan told the Argus Leader, laughing. "You should never have to do that."
He told McCleary that by the time that the most recent storm rolled through, he had a "pretty good idea" that the forecast would be accurate. At the end of practice the week before the Jan. 2 storm, Determan gathered his team and asked them to prepare as best they could — even if it meant workout out in their own garages.
"We have a pretty good shot here, guys, that we might not see each other for a couple of days," Determan said.
As reported by McCleary, conditioning is usually further along by now, but it's not atypical that his team is still conditioning in practices well into January. That practice load usually lessens around midseason. For now, Determan said his team is just relying on the "fundamentals" and "what they know basketball=wise."
"Kids are resilient," Determan told McCleary. "They're taking it as it comes. And they understand that you can control what you can control."