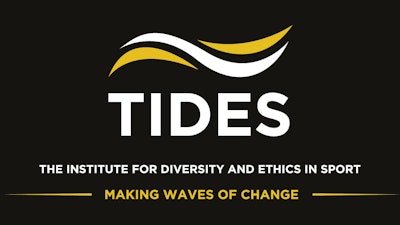 The number of FBS head coaches who were people of color decreased in 2022, according to a new report card released Thursday by The Institute for Diversity and Ethics in Sport (TIDES) at the University of Central Florida.
"I have pointed to the owners as being the main stumbling block to hiring more Black head coaches in the NFL," wrote TIDES director Richard Lapchick, in a contributed article for ESPN. "I have no doubt that a similar situation exists at the college level. The Football Bowl Subdivision (FBS) leadership positions who make the hiring calls -- presidents/chancellors and athletic directors, are overwhelmingly white and male. Faculty athletic reps (FARs) also play a role."
According to the 2022 D-I FBS Leadership College Racial and Gender Report Card, positions of influence within FBS schools received a C for racial hiring practices and an F for gender hiring practices, resulting in an overall combined D+ grade. The grade for race decreased by 5.2 percent to 74.4 percent from 2021 to 2022. The score for gender improved by 6.9 percentage points to 59.9 percent, higher than last year's score of 53.0, but still an F. The overall grade score improved from 66.3 percent in 2021 to 67.2 percent in 2022.
"These statistics tell it all," Lapchick wrote. "It is discouraging that in American higher education, 78.6 percent of chancellors and presidents, 77.1 percent of athletic directors, 83.6 percent of faculty athletic representatives and 80.0 percent of conference commissioners were white. That is more than 80 percent of all these key positions. Additionally, 60.3 percent of chancellors and presidents, 72.5 percent of athletic directors, 50.0 percent of faculty athletic representatives and 70.0 percent of conference commissioners were white men. The disproportion between campus leadership and student-athletes must remain a major concern in FBS institutions. White people held 79.9 percent of the 402 campus leadership positions."
At the start of the 2022 FBS season, 83.2 percent of head coaches were white, but only 34.3 percent of football student-athletes at the FBS level are white.
"Leaders should reflect who they lead," Lapchick wrote. "Unfortunately, in college sports, specifically at the FBS institutions, the overrepresentation of white men in key leadership positions results in a lack of opportunities for women and people of color. While the number of women and people of color serving in leadership positions at FBS institutions is slowly improving, it should be noted that the numbers are not a reflection of the student-athlete body.
"To provide the best experience and services for student-athletes, individuals in leadership positions need to be able to relate to student-athletes. Representation of campus leadership positions among Division I FBS colleges and universities clearly does not match those of the student-athletes at these institutions. For collegiate athletics to thrive and grow, leaders of these institutions must embrace diversity and inclusion at a higher level."
Many campuses claim to prioritize diversity, equity and inclusion, but so far such efforts as they relate to athletics amount to mere window dressing. When the curtain is pulled back, the numbers tell a different story.
"Calling diversity, equity and inclusion a campus priority is not the same as enacting it in real time," Lapchick concluded. "I challenge the leadership at all colleges and universities to mirror the diversity of their students and student-athletes in a way that is more equitable for all leadership positions."