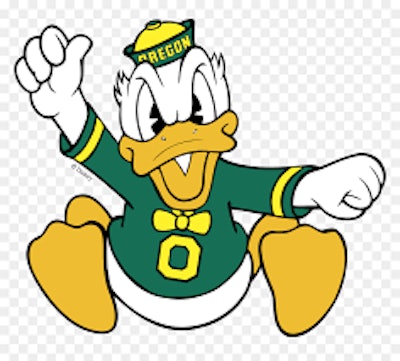 University of Oregon head men's basketball coach Dana Altman appeared to question the support of both fans and administration Tuesday following the Ducks' 61-58 home loss to Wisconsin in the quarterfinals of the National Invitation Tournament.
According to CBS Sports, a reported 3,300 attended the event at Matthew Knight Arena in Eugene, leaving some 9,000 seats vacant. Altman was not taking that spectacle sitting down.
"That goes into the evaluation," Altman said, when asked if there were enough people, CBS Sports reported. "What are we not giving our players? What are we not doing as a staff? If that means more people, then I'll go to [Oregon athletic director Rob Mullens] and beg. ... You see the commitment Wisconsin makes; they have their cheerleaders, their band. We make a commitment; don't get me wrong here. But you can see how important it is. It was important to them. It was important to me.
"What the heck, we should've had more people here tonight," he continued. "These guys play hard, okay? 3,300 people, it's not good enough. If it's me, then get rid of me. If you need somebody else to be a promoter, do something. But 3,300 people is embarrassing. It really is. I'm not in a very good mood, you can tell that. If it's me, then make the change. Make the change. Somebody will hire me somewhere. I'll go coach junior college ball. But 3,300 people? For Wisconsin? I was disappointed."
While seemingly questioning whether he is the right for the Ducks, Altman has led Oregon to four Pac-12 Conference regular-season championships, three Pac-12 Tournament titles, five NCAA Sweet 16 appearances, two Elite Eights and one Final Four, with a record amassed since 2010 of 321-140.
"I'm not a promoter. I'm not out in the public, I don't have Twitter," he said. "My job is to coach. I'm so bad at promoting, doing those things, but we have won 20 games for a long time. We have been in the postseason 13 years in a row. Our guys work hard. Just a little disappointed."
Perhaps this year's team is a victim of that past success.
"We didn't win enough games, so I understand fans' disappointment," Altman said. "But again: I want guys that want to be here. Staff that wants to be here. I want to be here. But I want fans to be here, too. We've got to do a better job. Our program's got to do better."