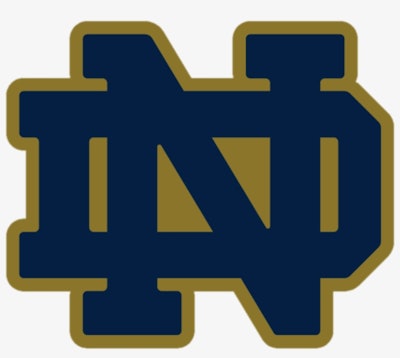 The NCAA is in jeopardy of eventually breaking apart, unless Congress, professional sports and the association itself find a resolution to the current name, image and likeness situation, according to two University of Notre Dame officials.
In an op-ed for The New York Times titled "College Sports Are a National Treasure. Don't Turn Them Into the Minor Leagues," Notre Dame athletic director Jack Swarbrick and university president John Jenkins see a dark future for college athletics, not only because of what has transpired so far with NIL, but if college athletes are considered to be employees of their institutions, which Swarbrick expects to happen sooner than later.
As reported by Ross Dellenger of Sports Illustrated, Swarbrick and Jenkins say Congress should rule that college athletes are not employees, preempt differing state NIL laws and allow college athletics to create NIL rules for the sake of competitive equity. They also believe the NFL should create a minor league for young players, and that the NBA should eliminate the one-and-done rule.
In an interview with SI, Swarbrick suggested that without more stringent NCAA rules and enforcement to police NIL activity, the years-long splintering of the association will reach a breaking point, with rich, like-minded college programs heading in their own direction.
Perhaps predictably, NIL has become a vehicle by which well-heeled donor groups can pool resources to attract recruits to their schools, but not all schools have the donor bases to compete for talent, and some choose not to aggressively participate in today's NIL machinations.
Wrote Dellenger, "One of the most respected in his field, Swarbrick, a former attorney, outlined a host of solutions to repair what he says is a broken system that threatens the competitive equity of college sports. That starts with the NCAA creating NIL policies — as opposed to the current 'guidelines' — and enforcing those policies. Athletes should be required to report all NIL transactions to the school, he says, and it should be the school's obligation to ensure that any transaction between an athlete/recruit and a booster is in fact a transaction in which the athlete contributes NIL value and the compensation reflects 'reasonable market value.' "
Among Swarbrick and Jenkins's other suggestions in the op-ed, as reported by SI: The NCAA should also (1) establish a national class-miss policy that limits each team's travel schedule to avoid missing too many classes; (2) create a national medical trust fund for those injured while playing college sports; and (3) honor scholarships for athletes who wish to return to school to complete their degree.
"If we can't start to get ourselves to where we can make rational decisions like those and enforce them, the future will be more than one athletic association. I can tell you that," Swarbrick told Dellenger. "We've got to get our act together as college athletics and do the things we can do. We keep sort of implying we can't address name, image and likeness. Of course we can. We can do it in ways requiring reporting on transactions, requiring that there be transactions. We have to take that on as opposed to looking to others to fix it for us."
Swarbrick told Dellenger these rules will not "solve the entire problem," but are a start to regulating an unwieldy system of blatant recruiting inducements.
"People were paying under the table for as long as I've been around," he said. "Now it's the same payment, but they're calling it NIL. We're not going to stop it. It's not going to all go away. But we've got to get out of this position where the vast majority of the transactions occurring are not what they are being characterized as.
"Educational institutions ought to be embarrassed to be part of it."