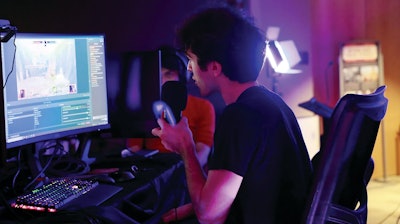 Photo courtesy of Syracus University
Syracuse University professor Christopher Hanson uses a simple comparison to highlight one of the core differences between professional esports and other well-recognized pro sports.
"Even if someone is not a fan of baseball, they can probably tell you roughly how baseball works," Hanson says. "To do the same with [games] like Overwatch, League of Legends, CSGO [Counter Strike Global Offensive], it's a totally different matter. The National Basketball Association does not own basketball, right? Major League Baseball does not own baseball. In esports, Riot owns League of Legends. Blizzard owns Overwatch. They own the game itself, as well as are invested in the league. The game that's being played — the esport — is itself a commodity. It's an industrial product that's made to make money."
Also From AB This Issue: Court Refuses to Count Esports Participants in Title IX Case
And make money they do — as well as draw undeniable crowds. The 2022 League of Legends Championship, held in November at the Golden State Warriors' Chase Center, sold out the venue's 18,000 seats, and the event drew 1.12 million total viewers, according to data analytics platform Esports Charts. Despite examples like that, esports remains unseen and elusive to many, even those at prestigious universities, such as Syracuse, that support growing esports clubs.
"I work with plenty of people across the university and in higher education who are like, 'E-what, now? What is this? People really do this?' Obviously, there are sold-out arenas, but then there's this enormous online audience as well that is watching these events. It's just always interesting to me to present this material to people who do not understand and do not see esports, and you can sort of see their jaw drop when they realize how enormous the audiences are. It's like, 'Wow, okay, then maybe we should pay a little more attention to this and think more seriously about what this means, and how we can best prepare new students for a shifting world.' "
Taking a step toward prepping students for the burgeoning industry, Hanson — the Syracuse esports club advisor with a background in media and video gaming — began teaching a course called EA Sports Media a few years ago. Expanding instruction further in March, Syracuse University announced another big step toward serving intercollegiate, and eventually, professional gaming: a first-of-its-kind degree offering for esports that will start accepting students in fall 2024.
"There are increasing numbers of schools offering esports programs," Hanson says. "These tend to be at smaller schools. And SU as an R1 — a research-focused university — trying to be ahead of the curve and offering coursework related to this is, I think, a fantastic thing. There is this tidal wave of people coming, and this is what they're most interested in."
The new SU degree program, Esports Communications and Management, will be offered by the university along with the S.I. Newhouse School of Public Communications and the David B. Falk College of Sport and Human Dynamics. It will include three tracks: Esports Business and Management, Esports Communications, and Esports Media and Design.
According to the university, the program taps into the multibillion-dollar esports industry and builds upon work already happening on campus. The Barnes Center at the Arch, Syracuse's recreation center, includes a designated esports gaming room outfitted with Omen Obelisk gaming stations; Xbox, PlayStation and Nintendo consoles; SIM racing stations; and a virtual reality unit.
Hanson says while there are plenty of folks still uninformed and critical of esports as a worthy intercollegiate endeavor (see the court decision in this month's Legal Action column, coauthored by Syracuse professor John Wolohan, on page 16, or online here), gaming competitions deserve a place on campus. He explains that the term esports itself is flawed, because of a contrarian-type sentiment that esports aren't athletic and aren't "real" sports.
"But by the same token, it is teams, and professional [esports] teams have very similar structures to traditional sports teams and franchises, where they may have a team dietician, physical therapy support, and that sort of thing," Hanson says. "There's this way in which their bodies are being tested and pushed, in ways that the average person is not. And certainly, there's a different sort of notion of athleticism that's involved with a person who's playing field hockey or is a cross-country runner or is a basketball player. But there's this growing recognition that there's a certain physical capability that is necessary and emphasized — things like reaction time — for really successful esports players and the most successful teams. So, I think the term esports carries a lot of baggage, which has made its acceptance perhaps a little trickier. But it is a convenient shorthand to describe this emerging phenomenon."