Even minor maintenance slips can impact a business's bottom line.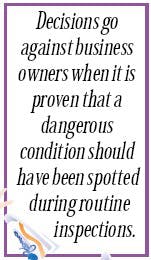 When a Kansas shopper injured herself recently by tripping over a carton in a store, she sued the retailer for negligence. An investigation found that the carton had been left in the aisle by an employee who had not been properly instructed in safe restocking routines. On the other hand, the customer-who was gazing at merchandise on the shelf-was not paying attention to where she was walking. So,whowas to blame?
The court held the store 60 percent and the customer 40 percent responsible for the accident. It split liability for medical expenses accordingly.
Health clubs and other for-profit businesses can get sued for similar accidents, and as the above story suggests, it doesn't take a major slipup to impact a business's bottom line. Falls, the leading public liability claim, can occur from such innocuous conditions as wet floors from tracked-in rain, slippery floors after hardsurface floors have been cleaned, general clutter and unmarked changes in floor levels.
The secret to preventing accidents and lawsuits is to do everything that a reasonable and prudent person would to keep a business safe. Claiming ignorance won't help: Courts say landlords are liable not only when they know about a dangerous condition and fail to act, but even when they should have known W about the dangerous condition in the first place. That means decisions go against business owners when it is proven that a dangerous condition existed for such a length of time that it should have been spotted during routine inspections.
Says Michael Weisz, a Columbus, Ohio-based attorney who specializes in premises liability law, "Business owners have responsibility when there is a dangerous condition that they have knowledge of, and they fail to take reasonable care to cure the problem."
While most slip-fall lawsuits are settled out of court, business owners still incur attorney's fees and have to cough up settlement amounts.
And no time at all need elapse if an employee creates a dangerous situation that leads to a fall by a patron. (Example: an ice-rink employee mops up a puddle but momentarily leaves the area unguarded.) Courts say that employee actions are "imputed" to employers. That's another way of saying that management is responsible for actions taken by employees in the normal course of their duties.
Here are some ways to make your business safer:
KEEP FLOORS DRY. Mop up puddles in the locker room, rink, entrance lobby and natatorium. Although patrons may still slip on damp floors, you reduce your liability considerably if you show that you took prudent steps to keep the floor as dry as possible. Caution signs should always be used when floors are wet. It's also smart to install nonskid mats (a number of different products are available) in the building's entranceway.
"You want some kind of carpeting in the entrance area so people dry their feet before coming in," says Howard Levinson, president of Howard Services, a safety consulting firm in Norton, Mass. Be aware, however, that thick mats can be trip hazards-and that they need to be properly maintained. Some mats can curl up at the corners and wear out at the edges, adding to the trip potential. "If you don't properly maintain a mat, it's worse than not having anything," warns Levinson.
APPLY MAINTENANCE COATINGS PROPERLY. You may have no control over what kind of material makes up your floor, but courts say that you do have control over what coatings are applied to it. You have to be sure the coating you apply is nonslip and is applied in the manner recommended by the manufacturer. Improper application of the wrong sealant or wax can void manufacturers' no-slip guarantees. In Texas, a retail outlet was found liable for negligence because it violated manufacturer instructions by applying excessive coats of wax to its tile floor. This made the tile slippery, causing a customer to fall.
Some surfaces achieve their nonskid effects by polishing; others don't get polished at all. Some, such as glazed tile or terrazzo, tend to be more slippery than others. Treat them with the right coatings. You can treat some glazed tile surfaces with an acid bath once a year to make them nonslip.
Read Hayes, president of Loss Prevention Specialists in Winter Park, Fla., notes that all employees have to buy into a safety policy. If your business has a custodial staff, make sure they are not taking shortcuts in their maintenance procedures or sacrificing safety for the sake of a shiny appearance.
REMOVE OBSTRUCTIONS. When stocking your club's juice bar, don't leave cardboard boxes lying around; when delivering towels to the front desk, don't leave a stack next to the check-in area that members could fall over. Check and take care of broken tiles and torn up carpet. "Make sure the edges of carpets are not turned up so they can cause a trip," says Levinson. In some cases, attractive displays have distracted patrons so much that they have tripped over objects they did not see. In some states, the presence of unexpected obstructions on the floor when patrons are engaged in looking elsewhere has been judged by courts to be a case of liability.
"You are confronted with a policy question," says Weisz. "If you are prohibited from putting out displays because someone may be distracted by them and trip over their own feet, you have to balance the policy effect against commerce."
Therefore, make sure that your pro shop's aisles are free of tripping hazards near displays of workout gear. It might be prudent to keep displays away from areas that feature a change in floor level. In addition, always warn of surface changes with reflective tape or signs at eye level ("Step Down").
INSPECT REGULARLY. Have someone assigned to the task of looking for hazards. Make sure the lighting is adequate, the floor has been properly cleaned and there is nothing on the floor to cause a fall. How often do you inspect? There is no set formula. It depends on the amount of traffic and conditions at the time. When it's raining, you will want to inspect for wet floors more often.
"Often your insurance company will provide guidelines," says Robert H. Ralicki, executive vice president of USMA-United States Mutual Association, an insurance brokerage in Pittsburgh. "Ask your insurer how often you are required to conduct routine safety inspections." Also, keep a written record. "If there is a suit you can pull out the records and show that you have done routine inspections," Ralicki says.
SCHEDULE MAINTENANCE PROPERLY. Allowing employees to clean or wax floors-or to undertake repairs-during business hours is just asking for trouble. Any such activity creates obstacles over which patrons can trip and fall. If work must be done during business hours, take precautions by using the proper caution signs to inform the public that repairs or maintenance are taking place. Contract help brought in from the outside should be covered by a certificate of insurance for general liability. "If they are responsible for something that gets the business sued, you can go back to them," says Ralicki. "Knowing this information up front is helpful.
If you do get sued and try to get the information later, that contractor may be out of business or very reluctant to produce the information without a hassle." You might require a copy of the contractor's certificate prior to allowing work to proceed. Finally, keep careful records of your policies, maintenance activities and employee education programs.
You will need these records to defend yourself against court actions. Don't fail to keep such records because you think you have made your business so safe that no one will slip or trip. There will always be someone to prove you wrong.