Coupons Can Entice Prospects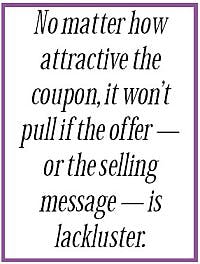 Would you like to command your own army of little soldiers, battling other clubs in your area for market share. Well, say hello to your troops: coupons, which are prepared to mount a campaign on your behalf to capture a huge number of potential members.
"Coupons are great for stealing customers from your competitors, if your message is right and you reach the right people," says Don Benton, president of The Benton Group, a Vancouver, Wash., agency that conducts marketing seminars.
But how do you create coupons that stand out from the millions of others in the marketplace. First off, by developing a winning offer. For the moment, let's set aside the question of appearance. No matter how attractive the coupon, it won't pull if the offer - or the selling message - is lackluster. Likewise, a coupon with a great offer will pull most of its load even if its appearance is less than great.
"When people look at coupons, they want to either save money or try something new," says Marti Hall, communications associate for Val-Pak Direct Marketing Systems in Largo, Fla. "So when you put together your coupon, answer that 'What do I get.' question for the recipient."
Many of your potential prospects may already work out at one of your competitors' facilities, notes Benton. You may therefore need to offer a significant discount from your usual price to pry them away. Offering a "50 cents off" coupon will not be enough. "You have to spend a little more to get the customer the first time," he says. "After they discover how friendly you are and the quality of your facility and services, it will be easier to hold onto them."
Create an offer that appeals to a broad audience rather than to a specific category of user. "You want an offer that a lot of people will want to try," says Hall. Targeting professional bodybuilders will certainly not draw the numbers that a coupon pitched to the recreational exerciser will. Offer special values on hot services such as Tae Bo or group-cycling classes. Don't try to use coupons to push more mundane activities like racquetball (unless you are offering a really deep discount).
Pump up response even further by being generous in your terms. "Don't weaken the coupon by placing too many limitations on the offer," says Hall. "For example, don't say that the coupon is good only from 9 to 11:30 a.m., Monday through Thursday. You want to make the offer convenient for them - not for you." Once again, this may mean that you are spending more than you thought you might to nab that new member.
You've decided on your offer. Now put some thought into stimulating prospects with a snappy design. "The most important grabber is the headline," says Benton. "People will leaf through coupons and put the ones with headlines that communicate real benefits in the 'keeper' file."
Cleanly state your offer in a visible location. "The headline should in a very few words reiterate the value of the offer and identify the category of service," says Hall. Examples are "50% off skate rentals," and "$20 off all racquets" or "Free one-week trial membership at our new location." The best headlines answer the question, "What do I get."
Keep the offer simple. Avoid asking people to jump through hoops with complicated procedures such as, "Bring a friend with this coupon and you will receive a free gift." While many prospects will want to bring a friend anyway, don't cut yourself off from the lone exerciser.
With your headline in place, how about some spice in the form of a graphic. "A picture is worth a thousand words on a coupon," says Benton. "Show the product you are promoting - your facility - or show a picture of the service being rendered."
Benton also recommends logos that tie the coupon into your newspaper and other advertising. "The key to market share is name awareness," he says. "People respond to a familiar name. The prospect who does not use your coupon will at least see your identification," he says.
Color can also be an effective marketing tool, as long as adding color doesn't add too much to the cost. (As Benton says, "People will use your coupon because of the offer, not because of the color.") An exception might be coupons printed in newspapers, where color can make your offer stand out from the rest of the page. As for which color to use, that's a matter of personal choice. ValPak's Hall says experiments with different colors are inconclusive. "We have never settled on color schemes that incite people to act," she says. "Just choose a color that doesn't obscure the value of your offer." For example, avoid a color that has insufficient contrast with the text.
Common wisdom says that you should include an expiration date to spark immediate attention and to help track results. Surprisingly, Hall is ambivalent. "We really don't know if dates create a sense of urgency," she says. "We do know that we are often amazed at how long many people hang on to coupons before using them - sometimes from six months to a year. We owe a debt of gratitude to the good old refrigerator magnet." In such cases, an expiration date can work against you because a prospect may toss out a coupon that has expired. "You don't want to cut off future sales just for the sake of tracking results," cautions Hall.
Hall adds that result assessment can be accomplished just as easily by establishing an arbitrary report date of, say, three months following distribution. Most advertisers experience a rush of business just after the coupons are distributed. Any additional facility rentals or memberships generated can be considered gravy.
There is one condition under which a time limit is mandatory. "Do put an expiration date on the piece if you need to protect yourself financially," says Hall. For example, a special deal from a sports-equipment vendor may not be available two months down the road.
After you send out your coupons, keep a diary of how they perform. What group of prospects responded. Did they become new members. Did they become regulars. Knowing the answers will help fine-tune your future coupon tactics. While the average response rate is usually pegged at 3 percent, Hall notes that usage can vary from one to 1,200 out of 10,000 coupons.
You can put some moxie in your coupon campaign by mailing frequently. "Our studies show that the more frequent the campaign, the greater the satisfaction to the advertiser," says Hall. "Busy people need to be confronted with a message a few times before taking action."
Finally, don't fashion offers that exclude your current customers. For example, unless you're specifically targeting first-time members, avoid a coupon that says explicitly, "For New Customers Only." If you must do so, consider adding a second coupon offering a price break on services to all your members. "Your competitor is after your business," says Hall. "You want to keep your customer happy."