The Fan's Mind-Set Fostered by Rivalries Can Translate Into Acts of Aggression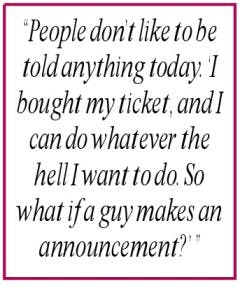 The tension in the Los Angeles Sports Arena was palpable. With less than two minutes to play in the University of Southern California men's basketball game Feb. 8 against visiting UCLA, the No. 22 Trojans were trying desperately to stave off an upset bid by the unranked rival Bruins, who held the ball and a 71-66 lead. Suddenly, a foul called against USC triggered a middle-aged fan seated in that school's booster section to launch a towel onto the court. The heat-of-the-moment outburst, which came despite previous announcements imploring the Pac-10 Conference-record crowd of 16,409 to refrain from such behavior, led game officials to tack on a bench technical to the two-shot foul that had just been whistled. UCLA converted all three free throws to gain an 8-point edge, retained possession of the ball and went on to win, 85-76.
The towel-tossing USC booster never saw the finish. As security promptly escorted him from the premises, the fan was heard to say, "I don't know why I did that."
Why spectators behave the way they do - particularly when the hurling of profanities or projectiles is involved - is a question that has long fascinated sports psychologists and sociologists. Daniel Wann, associate professor of psychology at Murray State University and co-author of Sport Fans: The Psychology and Social Impact of Spectators (Routledge Press, 2001), has focused his research on the relationship between fan identification with teams and violent behavior at games. Fans admitting to high levels of team identification are more likely than casual fans to behave aggressively when watching their team, according to Wann, who adds that this phenomenon is clearly evidenced at the college level. "With college students and college fans, the level of identification is very high," he says. "Not only is that their team, but that's their school - their alma mater or where they're currently enrolled - and they have a lot of their identity, in many situations, wrapped up with this team. The team is actually seen as an extension of the individual."
Individuals acting out their aggression alone may explain the psychological dynamics behind aberrant fan behavior. But when other fans follow the loose cannon's lead, sociological factors weigh in, as well, producing what Leonard Zaichkowski, professor of development studies and counseling at Boston University and an expert on sports spectators, calls "a contagion effect in a mob environment." The intense rivalries so relished in collegiate athletics and the explosion of television exposure devoted to college games have conspired to create an environment in which fans are a greater part of the spectacle than ever before. "On 'SportsCenter' we see spectators doing crazy things," Zaichkowski says, "but there's a fine line. They can be doing crazy things that are actually kind of funny, and if we have common sense, we can judge what's comical and not hurting anybody. But people cross the line into verbal assaults and then ultimately physical assaults. They go from things that are kind of fun to things that are nasty and dehumanizing. One person does it, and others at the scene will model it."
College athletic departments, too, must walk a fine line regarding the atmosphere they allow or even help create for fans at sporting events. Says Wann, "No athletic director is going to say, 'Let's try to get people to care less about the basketball team so they won't come so often.' That's not logical." On the contrary, Wann adds, it's that very identification that sports marketers try to foster, but the consequences can be dire. "We're setting the stage for violent reactions," he says. "So what can we do within the confines of the arena to try to diffuse the situation, knowing that we've already done the worst thing that we can do, which is to make fans care so much that when the team loses, they lose?"
That dilemma recently came to a head at the University of Maryland, where a plastic water bottle thrown by a Terrapins fan during a Jan. 27 men's basketball game against Duke struck the mother of Blue Devils player Carlos Boozer in the head. Alleging the blow caused a concussion, Renee Boozer pursued a lawsuit against the university, and a settlement was pending at press time. Meanwhile, Maryland athletic officials took three immediate steps to temper the type of atmosphere that may have contributed to the episode. A buffer zone was created around parents seated behind the visitors' bench at Cole Field House, supplanting students with ticket holders from the general public. The tradition of students "reading" newspapers to show indifference to the announcement of the visiting team's starting lineup was banned, since the ritual also included balling up the paper sections and throwing them at opposing players. The band's playing of "Rock and Roll Part II" was also forbidden, since it prompted students to chant "You suck!" on the heels of the tune's lone lyric ("Hey!").
"That's not the image the University of Maryland is after," says Rob Mullens, the school's senior associate athletic director for internal operations. "We're sitting down with our athletic counsel and with a student-government-appointed individual to discuss the culture at our athletic events. None of this is meant to be punitive. It's meant to protect the safety of those in attendance and to promote good sportsmanship."
That message was made clear in letters to UM's campus newspaper submitted by the university's president, athletic director and head men's basketball coach. In addition, the athletic department placed two full-page ads in the paper explaining the rationale behind the measures, which were enforced through the remainder of the season.
But not even a proactive approach to the Duke game, which included beefing up security with 16 additional officers, made Cole completely safe from the type of manic swings in emotion that ensued that night. Maryland, on the verge of upsetting the second-ranked Blue Devils, squandered a 10-point lead with 54 seconds left in regulation before losing in overtime, 98-96. That doesn't excuse what happened to Renee Boozer, but "sometimes you just can't stop everything," Mullens says.
Indeed, preparing for every possible fan-related mishap is impossible, though additional proactive steps can be taken. Game security can be a function of facility design - installing seats with backs and armrests rather than bleacher seats to combat overcrowding, standing on seats and jumping from row to row, for example. It can involve denying repeat offenders the right to renew their season tickets. It can mean, as Maryland discovered, terminating seemingly harmless traditions that have the potential to escalate into more-violent acts.
In addition, conferences may mandate that member schools issue announcements about sportsmanship, but the message typically gets lost in the pregame din. "Sports is life with the volume turned up," says Barry Mano, president of the National Association of Sports Officials and a former NCAA Division I basketball referee. "People don't like to be told anything today. 'I bought my ticket, and I can do whatever the hell I want to do. So what if a guy makes an announcement?' "
In addition to calling technical fouls against a particular team, referees have the authority to see that warnings about fan behavior are announced mid-game or that troublesome fans are removed or reseated, Mano says, but "it's something that sports officials try to steer clear of. It's not that we don't have the courage, it's just a very difficult thing to enforce."
The greatest security voice, according to Mano, may be one all-too-seldom heard: the home team's head coach. Bob Knight, fired last year for his own boorish behavior as men's basketball coach at Indiana University, nonetheless held great sway over fans at Assembly Hall. "He'd actually grab the microphone if they had started chants and say, 'We're not going to have any of that in here,' " says Kit Klingelhoffer, IU's sports information director for 17 years of Knight's tenure.
Knight's approach proved effective, but Murray State's Wann feels ongoing efforts are necessary to change the collective mind-set of fans and the normative culture at games. It can start with acts as enmeshed into the fabric of sporting events as cheering and booing. "The emotional state of those two things is completely different," Wann explains. "With cheering, you have elation; you're high-fiving your friends. No one, when their team is winning by 30 points, throws bottles. But if you're booing, that in and of itself says that you're releasing your hostility.
"If you can get it in your subculture that 'We as a fan base show our support, we don't show our displeasure,' you're going to cut down on the number of violent incidents, because fans aren't in that violent mind-set as much. You're not going to eliminate booing - you can't. But you can try to decrease it and increase the cheering. After all, that's what you really want."