Michigan's Practice of Scheduling Sports In Nontraditional Seasons Could End Soon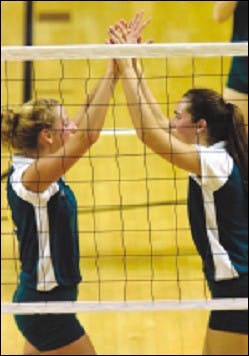 Finally, after three years of ugly Title IX legal posturing, a group of families and the Michigan High School Athletic Association will face off this month in U.S. District Court.
On one side of the courtroom will be Communities for Equity, a grassroots organization of more than 100 families, alleging that the state's out-of-season girls' sports programs (especially volleyball and basketball) are costing girls scholarship opportunities and violating Title IX standards that require equal opportunities in education. Formed in 1993, Communities for Equity originally (and unsuccessfully) sought change via non-legal avenues. In June 1998, though, two parents sued the MHSAA, claiming not only that the association's nontraditional scheduling of girls' sports harmed girls, but also that girls' regular- and post-season competitions are staged at inferior venues, that girls' sports have shorter seasons and that they receive less promotion and support than boys' sports.
On the other side of the courtroom will be the MHSAA, which has successfully fended off at least three other Title IX lawsuits over the past 30 years. But now, the state remains the only one in the nation in which girls' basketball is played in the fall and volleyball is played in the winter. With deep pockets for funding public awareness campaigns - including "Girls Win!," a program launched last year espousing Michigan's dedication to girls' high school athletics - MHSAA officials are committed to retaining what Executive Director Jack Roberts calls "the preferred model for school sports."
Kristen Galles, the Alexandria, Va.-based attorney representing Communities for Equity and the two parents who brought suit against the MHSAA, contends that the association's winning streak stops right here. "The people in Michigan will hear for the first time all the overwhelming evidence against girls' high school sports," Galles says. "They're going to ask why things weren't changed earlier. As an ex-athlete, I wouldn't be doing this case if I didn't believe these girls are being seriously harmed."
Counters Roberts, speaking for what he says is the majority of the state's high school athletic directors, "The irritation is growing - there's irritation as much as there is worry. They are livid that the system can be turned upside down."
If you ask some observers, they'll say Michigan's system was upside down from the start. Galles says that nontraditional schedules prohibit female student-athletes from being seen by most college recruiters, and keep them from participating in national recruiter-heavy camps and club systems like USA Volleyball, whose season coincides with Michigan's high school volleyball season. "We want to equitably distribute among boys and girls the benefits and the harms of playing sports out of season," Galles says.
If the issue sounds familiar, that's because it is. Consider recent case law.
The Virginia High School League's four enrollment classifications, at least for two more years, allow for certain girls' sports to be played in opposing seasons - schools in some classifications, for example, play tennis in the spring, while schools in other classifications play it in the fall. But VHSL officials agreed late last year to comply with a state court ruling by scheduling all volleyball programs in fall, basketball in winter and tennis in fall or spring, beginning with the 200304 school year. In a related move, the VHSL also realigned its member schools, effective this fall.
State high school officials in Montana, meanwhile, were ordered by the state's Human Rights Commission to change girls' basketball and volleyball seasons to coincide with traditional seasons by 2001-02. (Galles was involved on the plaintiffs' side in both the Virginia and Montana cases.) The South Dakota High School Activities Association also recently agreed to comply with a district court order to move girls' basketball and volleyball to traditional seasons, and state high school officials in North Dakota - faced with the threat of similar litigation - voluntarily shifted their girls' schedules. "Probably 80 percent of our schools would rather the change didn't happen, but they understand why it had to happen," says Sherman Sylling, executive director of the North Dakota High School Activities Association. "This had to happen in order to avoid a lawsuit we couldn't win."
Still, MHSAA officials think they have a fighting chance. "We're bigger than those other states," Roberts says. "We're staring at a minimum of a half-million dollars in legal fees. Small states can't afford to fight this, regardless of its merits. But we're not going to change our policies merely because it's going to cost us more to fight that change."
The two parents who filed suit against the MHSAA three years ago are both employees at East Kentwood High School in Grand Rapids. East Kentwood's athletic director, Jock Ambrose, interestingly enough, is one of the administrators surveyed by the MHSAA in 1998 who favored switching seasons. Association officials often cite the survey, which indicated that 82 percent of the 573 responding athletic administrators favored the state's current schedule.
"We made it clear that we can support a change in girls' volleyball and basketball," says Ambrose, whose school has access to five basketball courts in three gymnasiums. "But having boys' and girls' golf, swimming and diving, and tennis in the same seasons would be quite taxing on our facilities."
Indeed, lack of facilities to accommodate joint boys' and girls' seasons in many popular sports is among the primary arguments cited by MHSAA traditionalists.
"If they moved boys' wrestling to another season to make room for girls' basketball, this wouldn't be an issue," Galles says. "But that would never, ever happen. We're not asking the MHSAA to build new facilities; we're just telling them to make better use of the ones they have."
Another argument favored by MHSAA proponents is that college recruiters don't pursue the vast majority of student-athletes, and that most female student-athletes are happy with their current athletic schedules. Witness the "Girls Win!" campaign, to which the association has dedicated a special Web site (www.girlswin.org). The site declares that more Michigan girls play high school volleyball than any other sport, and that volleyball participation in the state ranks third in the nation. Further, it notes that Michigan's winter volleyball season is longer than the fall volleyball seasons played in neighboring states. Each info nugget concludes with the phrase, "Lots of people talk about opportunities for girls in sports, but there's one organization doing more for girls than anyone else … the 1,300 member schools of the MHSAA." An audio version of "Girls Win!" can be heard by callers to the association when they're placed on hold.
Galles has a rebuttal to the recruitment argument, too. "We are not - definitely not - talking about catering to the elite kids. The kids who are hurt most are the second- and third-tier players," she says, adding that participating in non-school leagues and camps can improve a player's skills dramatically. "The kid who isn't good enough for Michigan State University or Stanford University could play at a smaller school if she had two more years of volleyball experience under her belt."
In the end, though, these surveys and campaigns mean nothing to a judge - just as they meant nothing in Montana and South Dakota. "The court says you can't survey people about their constitutional rights," notes Galles, who claims MHSAA's survey questions - especially to the female student-athletes - were misleading. "When it comes to constitutional rights, majority does not rule. We've got a Constitution to adhere to."
The way Roberts chooses to frame it, the MHSAA is adhering to its principles. "When you're sued, there is a perception that you've done something wrong," he says. "Most states buy into the philosophy that we're defending, but that philosophy loses out because people threaten lawsuits and label you politically incorrect. What we are defending is that schools are able to decide for a majority when their seasons will be, and we will put on tournaments at the end of those seasons. We can hold our tournaments anytime."
Chief Judge Richard Enslen of the U.S.District Court in Kalamazoo, in his January 2000 opinion that allowed the case to continue, begged to differ. He wrote that the MHSAA "has a de facto monopoly [on] interscholastic sports" and called it "a controlling authority even though they don't receive federal funds."
That language is echoed by the U.S. Supreme Court, which earlier this year in Brentwood Academy v. Tennessee Secondary School Athletic Association, declared that the TSSAA - despite its status as a private association - is subject to constitutional review because it is the exclusive organization regulating high school athletics in Tennessee.
"It's all about girls having the opportunities to be the best volleyball players, the best soccer players they can be," Galles says. "Boys currently have that opportunity. Girls should, too."